Falklands' anti-Argentine flag petition collects 494 names and a lively debate
Friday, January 30th 2015 - 06:46 UTC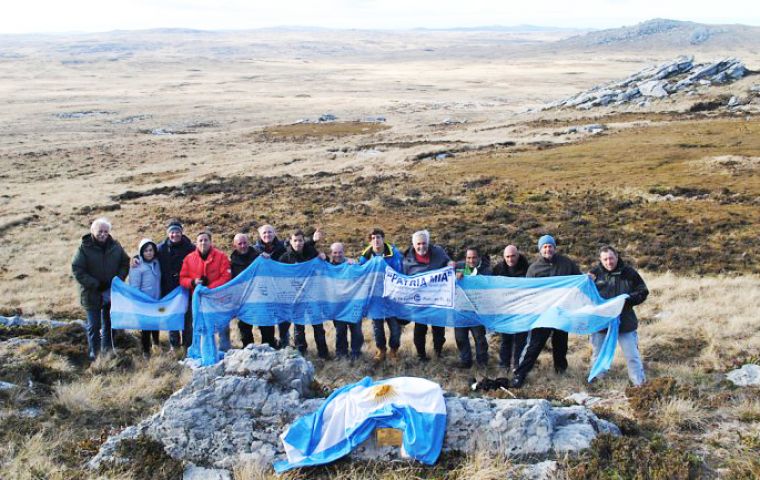 A lively debate, at times impassioned took place earlier this week in the Falkland Islands during a public meeting at the Chamber of Commerce to discuss bad behavior from Argentine visitors which was described as 'disturbing and distressing" for many Islanders.
The public meeting with the participation of Falklands elected members of the Legislative Assembly included the presentation of a petition containing 494 signatures in relation to visitors displaying Argentine flags.
"Treat the bad behavior of Argentine visitor's with the contempt it deserves", was MLA Jan Cheek's advice to the large group who gathered at the Chamber of Commerce.
The meeting chaired by MLA Barry Elsby was dominated by the subject of the recent petition demanding action from the Falkland Islands Government in relation to Argentine visitors displaying Argentine flags which was described as "disturbing and distressing" for many Islanders.
Kris Thorsen presented the petition containing 494 signatures to MLAs at the end of the meeting. She questioned whether most people were aware of the level of distress in the older population, some of whom locked themselves in their houses when they knew there were Argentines in the town, she told MLAs, adding: "Is this the sort of community we want?"
Attorney General Peter Judge said there was legislation under the public order act which could be applied in these incidences, "If the actions of the individual are intended to be threatening and abusive or if that individual is aware that is the case, they will have committed an offence and the police will be able to take action." However, Mr Judge warned, all laws have to be seen within the context of the Constitution and enshrined in the freedom of expression.
Chief of Police, Superintendent Len McGill explained that a lot of work, had taken place over the last month to look at how to manage situations. The bottom line was simple, said Supt McGill.
The displaying of a national flag did not create an offence, unless accompanied by some chanting, a placard or slogan then maybe it would be a public order offence.
Tim Miller said that when an Argentine flag is displayed in the Falklands it was of a country that was claiming the Falklands "in the same way it did 33 years ago."
"The only difference was that it was not live bullets that were flying this time, he said adding that "war had been declared albeit it was economic this time." The RFIP should make it their mission to protect the, "peaceful and quiet, local population from the shock, distress and mental trauma of what these visitors do" said Mr Miller.
MLA Gavin Short agreed with Tim Miller and said that during the Crimes Bill select committee there had seemed to be uncertainty within the Police Force that they had the powers needed.
He said this was why he had put forward an amendment to the law, which was not supported by his colleagues. "I believe what is going on now has gone beyond what can reasonably be considered freedom of speech," said MLA Short. He said there were more politically motivated visits than ever before and he believed Falkland Islands law should be protecting the population from that group.
MLA Mike Summers said there was another element to be considered and that was "the reality of who these people are and what they could do to us." He said that but by and large they were a bunch of fantasists.
"These people can't hurt us, they are just here to try and justify to themselves that they got their backsides severely kicked 30 odd years ago, and pretending that they are something in this country. They are not. They are nothing," he said. The way to help people who may feel frightened, was to explain that they cannot be hurt by these visitors, said MLA Summers.
MLA Phyl Rendell recognized that the issue had been, "pussy footed around" for quite some time, perhaps worried about speaking out about the subject.
"It's very important for people to know that we are all joined up and are one community. "We MLAs back the police, back the Attorney General and we must work together to make sure our laws are enforced and enforceable.
"As a community we must not fragment we must work together," said MLA Rendell. (Penguin News)