Leading culinary association promotes Argentine food and wine at the embassy in London
Friday, January 30th 2015 - 20:36 UTC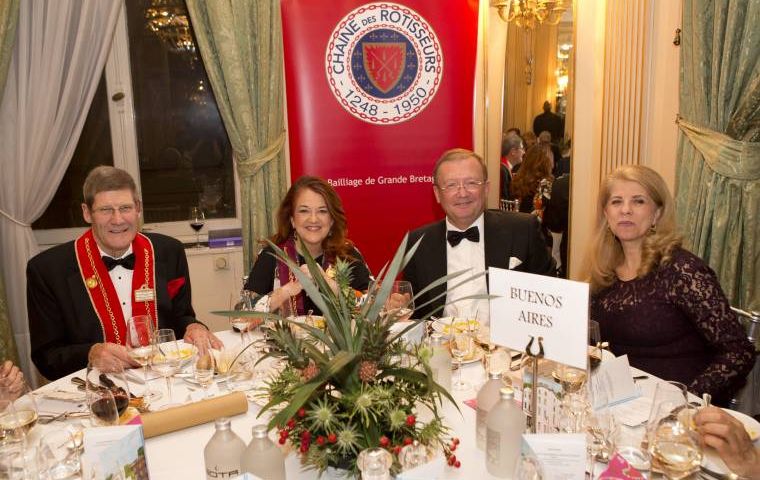 The annual dinner of the Chaine des Rotisseurs was held in the Embassy of Argentina in the United Kingdom and for the first time, the association dedicated its major event to Argentine food and wine. Over one hundred special guests enjoyed a menu of dishes and wines representing the best of the country's regional culinary traditions.
Chaine des Rotisseurs, one of the world's most prestigious gourmet gastronomic associations was founded in the Middle Ages and re-founded in 1950. It is an association dedicated to promoting and cultivating awareness of gourmet gastronomy and top quality wines worldwide. With over twenty-five thousand members in eighty countries, including the major hotel chains, restaurants, chefs and sommeliers from around the world, the association serves as one of the sector's primary business platforms. The organisation holds an annual dinner and this year's event, planned under the theme "Flavours of Argentina", was the first to be dedicated to Argentine food and wine.
"Strong cultural ties historically link Argentina and the UK", stated the Ambassador at the event. "Many of our traditions in the field of architecture, design, sports and literature are inseparably linked. Today we want to share and promote the diversity of our culinary tradition with the British public in the hope that food and wine can help to bring our cultures closer and encourage dialogue and friendship", added Alicia Castro, who was named an honorary member of the association.
The evening featured a dinner attended by over one hundred people, including representatives from associations in the hotel and gastronomic sector, importers, sommeliers, chefs, press, members of the diplomatic corps and business people in the British capital.
The menu, put together by Argentine chefs Facundo Acevedo, Javier Brichetto and Hernán Simesen, included a range of dishes representing the country's various regions, each one accompanied by specially selected wines from the Rutini, Trapiche, Familia Zuccardi and Yacochuya wineries.
Funds were raised at the event for the charity Kids Company, an organization dedicated to providing support for over 30 thousand vulnerable children and young people.