"Good cruise season" for Punta Arenas with some 60.000 visitors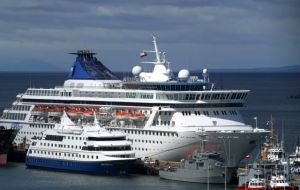 Punta Arenas in the extreme south of Chile is expecting some 60.000 visitors this cruise season (2014/15) according to estimates from the local port authority Empresa Portuaria Austral, EPA, which is considered a 'good season' and an improvement over previous years.
Igancio Covacevic also pointed out that the cruise season is expected to inject an estimated five million dollars to the local economy, based on a study from Chile's Tourism Service, Senatur. This works out at 85 dollars per landing passenger from the cruise vessels.
For his part Gonzalo Davañino from the ports corporation of Chile said that the number of calls in increasing encouragingly and expects Chilean authorities to open more ports to the cruise industry: "shorter trips could attract more passengers".
Currently there are ten ports certified by Chile and the cruise industry with 194 calls in the 2013/14 season. Punta Arenas leads with 46 equivalent to 23.71%, followed by Puerto Montt with 43 calls.
In passenger numbers, the total was 216.679, of which 53.139 landed in Punta Arenas (24.52), only second to Valparaiso with 65.927 pax (30.42%). Crew numbers totaled 103.117 of which 25.404 landed in Punta Arenas and 25.389 in Puerto Montt. Overall the number of visitors and crew was 320.796 in 2013/14, of which 78.543 in Punta Arenas and 87.671 in Valparaiso.
Finally Covacevic anticipated that for the next season an increase of 33% in the number of passengers, from 60 to 80.000, could be expected at Punta Arenas and multi-purpose terminals must be improved to manage those numbers.
Currently some 50 international and 60 regional cruise vessels call in Punta Arenas en route to Ushuaia, which means "for the next season we can expect some 80.000 visitors which is equivalent to a 33% increase, said Covacevic.