Toothfish poachers in Australian waters try to ram Sea Shepherd's "Sam Simon"
Tuesday, February 3rd 2015 - 06:59 UTC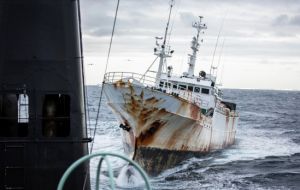 Two illegal fishing boats that evaded the New Zealand navy are now in Australian waters, but it's unclear whether local authorities will intervene. Conservation group Sea Shepherd on Monday said one of their ships patrolling the area, the Sam Simon, intercepted the Yongding and the Kunlun at 11.30am AEDT with prohibited fishing gear on its deck.
It alleged the Yongding sailed directly towards the Sam Simon and only missed a collision by 10 meters. The ships, which bear Equatorial Guinea flags, were caught by the New Zealand navy last month fishing illegally for toothfish in the Southern Ocean, in an area west of the Ross Sea.
However, the NZ navy was denied permission to board and the vessels continued to fish despite being under the watch of HMNZS Wellington, which eventually had to return to port for refueling.
Official inquiries established the boats were in fact not flagged to Equatorial Guinea. Two of the ships claim to be owned by Stanley Management, which has an office based in Panama, and ships have been linked to Spanish crime syndicate Vidal Armadores.
After a request by the New Zealand government the vessels were issued with Interpol Purple Notices for suspected illegal fishing activity and related crimes. This did not stop the boats from sailing to Australia, prompting criticism by Sea Shepherd that governments are not doing enough to stop illegal fishing.
'It is abundantly clear that the New Zealand and Australian governments should not have let the vessels out of sight when they were first found,' said the Sam Simon's Captain Sid Chakravarty. He also accused Australia of allowing poaching to continue.
'The inaction of the Australian government ... has allowed the poachers to roam free in these waters,' he said in a statement.
'In response to this meek reaction from Australia, the poaching vessels have shown little regard for authority and absolutely no concern of being apprehended.
'Sea Shepherd has been patrolling Antarctic and surrounding waters as part of its Operation Icefish campaign, which began in December.