Hereford's best 2014 bull in the world is from Uruguay
Wednesday, February 4th 2015 - 08:31 UTC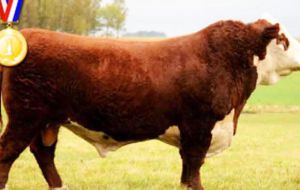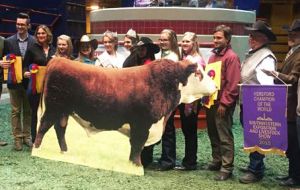 The world's best Hereford bull is from Uruguay. "Kamikaze" was chosen king of bulls 2014 by HerefordBreeder.net, the world's top Hereford show which takes place in Texas. The Sunday event was supported in conjunction with the Stock Show and other sponsors, in ceremonies at Fort Worth's West Arena.
The Hereford world championship brings together the best bulls from the different continents. In the case of Kamikaze he belongs to the breeding farm "Las Anitas", and had already been chosen the top bull of South America. He competed with the best bulls from North America; from Europe, (Denmark) and from Oceania, New Zealand.
Kamikaze was unanimously voted the best bull by the four judges working in Texas. The exceptional animal had also won the best bull award in last year's Agro-show in El Prado, Montevideo, Uruguay and had also set an auction record: 55.000 dollars were paid for 50%, which means he was valued last August/September at 110.000 dollars.
However a big difference in this awards ceremony must be pointed out since compared to others at the Stock Show, the cattle did not have to be present to win. Because it is not practical to move cattle across borders, the stock was instead represented by a pair of life-sized, cardboard cutouts created from photos. So these exceptionally thick animals were reduced to avatars less than a half-inch thick, making for a unique sight in the Stock Show's West Arena sale and show ring on Sunday.
"We're completely thrilled not only because what it means for our farm, but mainly for Uruguay, flying at the top of the mast; it is fantastic for Uruguay's Hereford genetics", said Fernando 'Nano' Alfonso after the announcement.
"He's a magnificent bull, his color, pigmentation, his meat potential, his excellent pedigree and great EPD (expected progeny differences)" underlined Fernando who added that a couple of calves from Kamikaze will be competing in the Durazno cattle show, one of the most important events in Uruguay.
Silver went to the US bull ECR Who Maker 210 ET and bronze for the Danish competitor, Moeskaer Pacman 1417. The judges were a Hereford expert from each continent (four) plus a vote from the audience through the portal.
A Hereford Miss World female for 2014 went to a cow shown by Cayley Brown of Perry, Saskatchewan, Canada. Each champion received 5,000 dollars and the other six finalists received 3,000.
"This is the richest Hereford show in the world. There isn't a Hereford show that pays out as much in premiums [prize money]," said PJ Budler, founder of HerefordBreeder.net and the creator of the event, which is in its third year.