"I'm not under pressure on the Nisman death case" says prosecutor Fein
Wednesday, February 4th 2015 - 09:30 UTC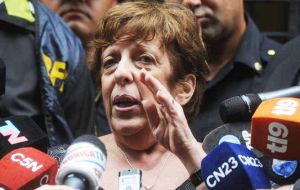 Argentine Prosecutor Viviana Fein has insisted that she is not under any external pressure relating to her investigations into the death of AMIA lead prosecutor Alberto Nisman, and promised to formally report any such interferences in her work.
However a fellow senior prosecutor Ricardo Saenz said he was suspicious about the way Ms Fain was being treated and wasn't sure "if they wanted her out, but they do want her uncomfortable".
"I do not want my work to be manipulated by any political sector," Fein told reporters outside her office in the centre of Buenos Aires, after referring once more to the discovery of a file in the rubbish bin of Nisman's Puerto Madero home.
The prosecutor added that she received full support from the Attorney General's office, led by the controversial Alejandra Gils Carbó, "from the very first day".
"In 40 years I have never suffered from outside pressure exercised on my working life. I am not suffering from that now, I am not scared, I want that made quite clear," Fein underlined, defining herself as an "independent person".
"The day that I suffer any type of pressure, I will be the first person to report it."
The prosecutor added with regards to the files related to Nisman's accusations against President Cristina Fernández that the information contained will not have a great impact on the case.
"It does not have the potential to change the course of the investigation right now. It does not add, nor take away anything from the investigation," she said.
Meanwhile Saenz insisted that the government of president Cristina Fernandez is 'desperate' and want to put pressure on Fein. "Don't forget that last week she showed Iberia's report on Nisman's trip denying with facts what the president had been saying. That's her, no nonsense with her, that is why I am suspicious".
Sáenz added that the media department of the Attorney General office is directed by "Luis Villanueva who is a Kirchnerite militant and repeatedly attacks Clarin; he's an employee of this government, we shouldn't be allowing this person to make the releases on prosecutors' activities".
But "if they want to interfere with the investigation into the death of a colleague, we will not allow it to happen", concluded Saenz.