Uruguay with one foot in the Security Council in 2016; has full support from the region
Wednesday, February 4th 2015 - 09:00 UTC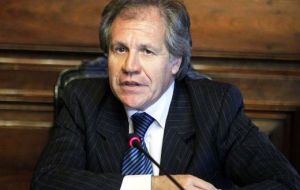 Uruguay is the 'only' candidate from Latin America and the Caribbean and has the necessary votes to be elected next October non permanent member of the United Nations Security Council beginning 2016, announced foreign minister Luis Almagro. This will be the second time a Uruguay seat at the Security Council, the first was in 1965/66.
"We have the support for the Uruguayan candidacy. This means all countries from Latin America and the Caribbean will chose Uruguay for the seat that belongs to this region in the Security Council", added the minister. "We are the only candidate from the region and with the necessary votes to support it during the coming UN General Assembly next October".
"The support from the region was unanimous; seating at the Security Council is most important: it means involvement in issues as international security, peace operations, Middle East", said Uruguay's ambassador before the UN, Gonzalo Koncke.
The UN Security Council has 15 members of which five are permanent: China, France, Russia, US and UK, while the remaining are distributed among regions, with two going to Latin America and the Caribbean. Currently the region is represented by Chile and Venezuela, with Chile's time up at the end of the year when Uruguay is expected to come in.
If Almagro is correct, then the vote for Uruguay next September at the General Assembly should be swift since other regions and permanent members tend to respect the decisions from other regions, particularly if they have a consensus.
Uruguay last occupied a bench at the Security Council in 1965/66. However at the time Uruguay was the only country to openly condemn the invasion of the Dominican Republic by US marines, and Brazilian and Argentine troops. Washington feared that the new government in Santo Domingo would follow on the path of Cuba and Fidel Castro.
The ambassador Carlos María Velázquez, a distinguished scholar and jurist attacked in the Security Council US policy calling it the "Johnson doctrine" in reference to then president Lyndon Johnson who was also in the midst of the exhausting and unwinnable Vietnam war.
However half a century later Uruguay not only remains committed to peace, to the peaceful solution of conflicts and human rights, but is also a reliable ally and the country that during the last decade has more troops, in relation to its population, engaged in UN peace missions.
Uruguay could also strike another foreign policy success next 18 February when outgoing foreign minister Almagro presents his proposal to lead the Organization of American States, OAS. Almagro is currently the only candidate and has the support of twenty countries to replace Chile's Jose Miguel Insulza, who ends his two five year periods, next May.