China's Navy in procurement spree to build its second aircraft carrier
Thursday, February 5th 2015 - 13:17 UTC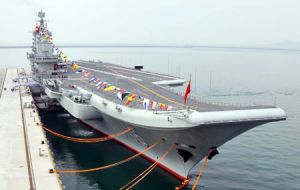 The construction of China's second aircraft carrier appears to be imminent, reports the Global Times, a tabloid under the auspices of the Communist Party mouthpiece People's Daily.
Last Saturday, the official microblog of the Changzhou city government in east China's Jiangsu province posted that a local company, Jiangsu Shangshang Cable Group, has won a tender to supply cabling for "China's second aircraft carrier."
The post was backed up by a report by the Changzhou Evening News on the same day, though both the microblog post and the article were deleted shortly after publication.
According to the Global Times, Jiangsu Shangshang Cable Group was a supplier of China's first aircraft carrier, the Liaoning, a refitted former Soviet carrier which was commissioned in September 2012.
In the international arena, most countries usually require three aircraft carriers, one on duty, one for training, and one in maintenance, the Global Times said. In April 2013, Song Xue, the chief of staff of the People's Liberation Army Navy, said that China will eventually have more than just one aircraft carrier, but denied reports that a shipbuilder had already commenced work in Shanghai.
In August later that year, Chinese defense ministry spokesperson Yang Yujun concurred that while the Liaoning is China's first aircraft carrier, it certainly won't be the last.
Modern aircraft carriers require a major long-term investment that involves complex analyses, design, construction and testing, the Global Times said. Chinese military commentary Li Xiaojian told the tabloid that the tender process for a new aircraft carrier will only begin after the overall planning and design process has been completed, suggesting that the recent reports mean China's second aircraft carrier could soon be entering the construction phase.
It remains unclear whether the new aircraft carrier will be conventionally or nuclear powered, though according to the Voice of Russia, China intends to have two conventionally-powered aircraft carriers to accumulate the necessary experience to boost the PLA Navy's offshore attack capabilities.