Anti-austerity Podemos party becomes Spain's second party and political option
Friday, February 6th 2015 - 23:36 UTC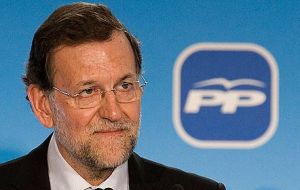 Spain's anti-austerity left-wingers Podemos would come in second, ahead of the Socialist party (PSOE), if general elections were held today, a polling firm declared this week, as the party, barely one year old, continues its surge in popularity.
Although the governing conservative Popular Party (PP), led by Prime Minister Mariano Rajoy, came in first place in the Centro de Investigaciones Sociológicas (CIS) poll, its popularity has plunged of late after a series of corruption scandals involving politicians in their own ranks have come to light.
The government's tough welfare cuts have also benefited Podemos, whose left-wing policies and pre-election popularity have drawn parallels with Greece's newly-elected Syriza party.
Responding to his party's poor performance, PSOE Congress spokesman Antonio Hernando said that he didn't "trust" the CIS poll.
Highlighting the nation's ongoing shifts in the political landscape, the CIS poll showed that no clear majority would emerge from the vote, likely forcing the main parties to try to form a coalition. And with general elections due by the year's end, experts are watching the polls closely.
According to the survey, the PP would take 27.3% of the vote, with Podemos on 23.9% and the Socialists on 22.2%.
With newcomer Podemos now grabbing the biggest share of the leftist vote, the PSOE may be forced to decide between backing a grand coalition with its centre-right PP opponents or a left-wing government lead by Podemos.
Like Syriza in Greece, Podemos is hoping to win power by overtaking the two leading parties and emerging as the dominant party.