China's import of key commodities falls sharply during January
Monday, February 9th 2015 - 12:32 UTC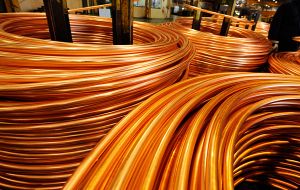 China's imports of key commodities eased in January after the record high set in December, as expected as the earlier heavy purchases to take advantage of weak prices had swollen inventories, preliminary customs data released has shown.
China's slowing economy, 7.4% growth in 2014 was the weakest in 24 years, has weighed on global markets as it is the world's biggest buyer of iron ore, coal, copper and soy, and the second-largest crude oil importer after the United States. The sharp falls in commodity imports helped result in a record monthly trade surplus of US$60 billion.
But analysts urged caution interpreting the trade data, as it would be distorted by the Lunar New Year holiday, which fell in January last year, and will fall in February this year. Customs data showed imports of iron ore at 78.57 million tons in January, down 9.5% from December. It recorded a similar decline over January 2014.
"Steel demand in northern China has slowed as cold temperatures hampered construction activity along with the continued weakness in the property sector, forcing mills to hold back buying of raw material from Australia and Brazil," said Hu Xiaodong, an analyst with Nanhua Futures in Hangzhou.
Domestic iron ore prices fell 13% in January, suffering the biggest monthly fall since May 2013 due to oversupply and high inventories. Some Chinese steel mills have scheduled maintenance in a move to curb production.
Imports of crude oil totaled 27.98 million tons, or 6.59 million barrels per day, in January, 0.6% below year ago levels and nearly eight per cent below December's total. China's crude imports had risen nearly 10% in 2014, as the government and state oil firms took advantage of steep falls in global prices to build stockpile.
Imports of copper, at 410,000 tons in January, eased slightly from December but were down by nearly a quarter from a year earlier, as tight bank credit continued to deter smaller buyers even though domestic prices were high compared with those posted on the London Metal Exchange.
Coal posted the steepest fall, with last month's imports 38% below December at 16.78 million tons, and less than half the level imported in January last year. China's coal mining was among the worst hit by the economic slowdown with many small mines closed due to the government's campaign for clean air and efficiency.
Imports of soy at 6.88 million tons in January were below the record set in December, but above the 5.9 million tons imported in January last year. High imports coupled with weaker demand have hurt crushing margins.
"Crushers are breaking even or making thin profits. Pork prices and meat consumption are both falling despite peak consuming season," said analyst Li Lifeng with industry portal www.cofeed.com.
Due to weaker-than-expected consumption, weekly meal stocks last week jumped to the highest since September, as feed mills are unwilling to build up stocks on expectation of even lower meal prices later, according to Cofeed data.