FARC vows to lay down arms and to reinvent itself as a political party
Monday, February 9th 2015 - 17:41 UTC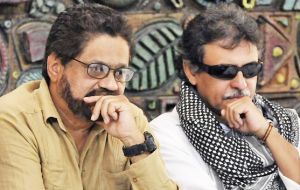 Colombian FARC guerrillas on Saturday vowed to lay down their weapons and reinvent themselves as a political party, if the Colombian government follows through with the reforms under discussion in peace talks.
The rebel group, Revolutionary Armed Forces of Colombia, "is committed to ensuring that the armed hostilities of the past don't get recur," one of its negotiators Jesus Santrich said in a statement read to the media at the start of another day of talks.
Among the changes the FARC hopes to see, Santrich said, is the group's "transformation into a political movement that can work to bring about structural change" in Colombia.
The FARC as a political party would also endeavor to bring about reparations for victims, and to preserve "the historical truth" about the country's decades-old civil conflict, he said.
Negotiations between the two sides resumed this week in Havana after a year-end break, as rebels and the Bogota government try to end the half-century old insurgency.
Talks so far have yet to resolve key issues including disarmament and how any agreement should be ratified.
The FARC said in its statement that it also is looking for reform of the government's position on communism, overhaul of the armed forces, greater protection of minority rights, and other changes.
The government's delegation, led by Humberto de la Calle, has been meeting with negotiators from the rebel group since November 2012.
So far, the two sides have agreed on three of the six points of the agenda to end the conflict, which is estimated to have claimed the lives of more than 220,000 people.