Nisman death: new DNA profile found in the apartment; a second tests finds no traces of gunpowder
Wednesday, February 11th 2015 - 06:05 UTC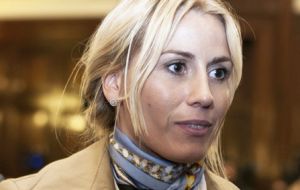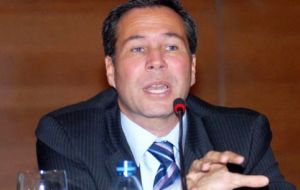 Argentine judge Fabiana Palmaghini in charge of the investigation into the death of AMIA special prosecutor Alberto Nisman, has confirmed a new DNA profile has been found at the victim's apartment, ordering further tests to identify whose sample it belongs to. Likewise a microscopic electron scanning second test on evidence samples, found no traces of gunpowder in Nisman's hands.
"In that same house, a new sample was obtained… corresponding to a genetic profile different to Nisman's, still ignoring who it belongs to," a judicial resolution that was made public on Tuesday said.
According to the latest information, the DNA evidence was found in the kitchen of Nisman's apartment, in a coffee mug, when investigators first had access to the home of the late prosecutor.
Judge Palmaghini decided to call Diego Lagomarsino – the computer engineer who worked for Alberto Nisman in the prosecutor's office investigating the 1994 bombing of the AMIA Jewish center-, to appear before the Forensic Medical Body to provide a DNA sample, although his name was not published in the judicial resolution.
The statement did mention testimonies pointing to a visit prosecutor Nisman had on Saturday January 17, one day before he was found dead in his apartment's bathroom.
Some weeks ago, Lagomarsino held a press conference and said he was present at the victim's home twice that day and admitted he had provided him with the gun that was found next to his body the day after and that ended with his life. Lagomarsino also said that day that he had a coffee at Nisman's.
Meanwhile, a microscopic electron scanning test on evidence samples done in the province of Salta Prosecutors Investigation Center found no traces of gunpowder. The same test had been done by the Buenos Aires Scientific Police, and no traces of barium, antimony and lead were found either.
Experts explained that the fact the scanning test gave negative results does not mean Nisman couldn't have fired the gun himself, as the gun involved – a Bersa 62 - is of small caliber - .22 - and may leave no trace.
The test was done under the supervision of prosecutor Bernardo Chirichella who travelled specially to Salta personally carrying samples, and with the attendance of one of the experts named by Nisman's former wife, magistrate Sandra Arroyo Salgado who is a plaintiff in the case.