"Our democracy is young, but nor fragile" ambassador Castro tells the FT
Wednesday, February 11th 2015 - 05:30 UTC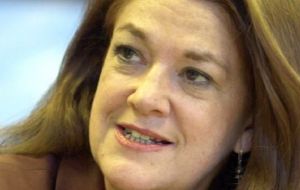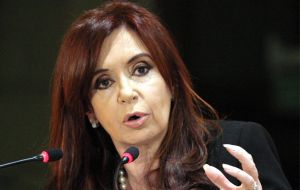 Following the publication of an article in the British press under the heading of "Democracy in Argentina dented by mysterious murder", Argentine ambassador in London Alicia Castro, sent a letter to the editor of the Financial Times basically arguing that "our democracy is young, but not fragile" and describing the article as "most groundless and offensive" accusation.
The full text of the letter is as follows:
Dear Sir:
"I have to disagree with John Paul Rathbone's article Democracy in Argentina dented by mysterious murder (Comment, February 6th). Prosecutor Alberto Nisman's tragic death, which is currently under judicial investigation, neither dents nor puts Argentina's democracy at risk. As Argentines we have lived for many years under cruel military dictatorships, many of them supported by foreign powers and we are well aware of the value of democracy. For the first time in Argentina's history we have enjoyed 30 years of continuous democracy. Our democracy is young, but not fragile.
"Mr. Rathbone also states that "no Argentine" believes the case will be solved. This is a gross generalization. As Mr. Rathbone rightly points out, Argentina's judiciary is independent. Our judicial system boasts a well established reputation for delivering justice in complex cases. A good example of this is the investigation and condemnation of crimes against humanity perpetrated by the last military junta. Argentina's model of transitional justice has been recognized as an example by the international community, as has our government's human rights policy.
"Mr. Rathbone's assertion that there is "a conspiracy" involving the Argentine state to prevent the case from being solved is entirely false: President Cristina Fernández de Kirchner has taken all necessary steps to facilitate the judicial investigation, among them, the opening of all classified intelligence files possibly related to this investigation.
"To describe Argentina as a "flawed democracy" or a "rogue state" is a most groundless and offensive accusation. Our country is a dynamic and progressive democracy, as are all the democracies in our Region, united in upholding the values of Peace, Truth and Justice".
Signed, Alicia Castro, Ambassador of Argentina.