A canine brigade in Punta Arenas helps to speed the landing of 4.000 visitors
Friday, February 13th 2015 - 13:56 UTC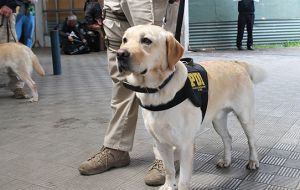 How do you manage to make the mandatory phyto-sanitary controls when 4.000 visitors come ashore on the same day virtually at the same time, and the port is not a major terminal. Particularly when the country is a main producer of fruit and other agriculture goods and must act with the utmost jealousy to ensure its privileged position as a world leading exporter.
The country is Chile, the port is Punta Arenas in the extreme south and the event, the landing of over 4.000 passengers from three visiting cruise vessels on the same day. For this purpose the Chilean Agriculture and Livestock Service, SAG and the National Tourism Service, Sernatur coordinated activities with a canine brigade, specially trained to detect produce banned from coming into the country.
This happened on Monday when the Artania, Seabourn Quest and Golden Princess coincided in their visit to Punta Arenas.
Artania arrived with 900 passengers en route to Chacabuco, along the Chilean coast; Seabourn Quest called in with 451 pax heading for Antarctica and Golden Princess, with 2.659 pax en route to Puerto Montt the next port of call.
SAG was quick in distributing literature relevant to the phyto-sanitary conditions in Chile plus a list of articles with regulated access, while Sernatur displayed sufficient staff to address all the inquiries in different languages of the arriving passengers. The canine brigade did the sniffing.
The operation was monitored by the SAG regional director Maria Isable Sanchez Lopez; the regional director of Sernatur, Kluas Thormann and the manager of the Austrl Port Company, EPA, Ignacio Covacevich, all of which were satisfied with the resutls, and an 'exlightening experience' for further situations.
So far this year Punta Arenas has received 45.000 cruise passengers, and another 20.000 are expected before the end of the current 2014/15 season.