Falklands' 105 plus Illex fishing licences for a promising 2015 season
Friday, February 13th 2015 - 04:46 UTC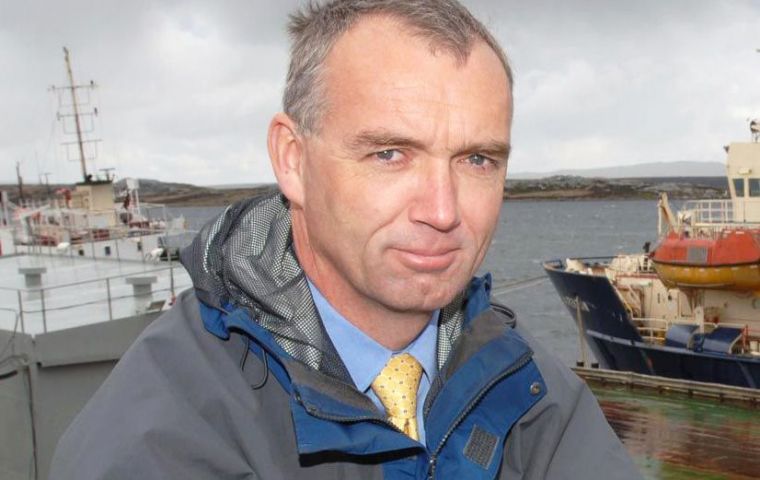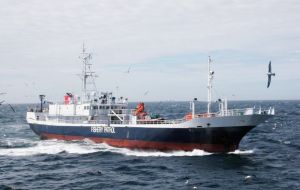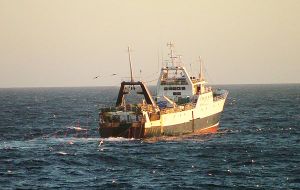 One hundred and five jiggers and one trawler have been offered Falkland Islands Illex squid licenses for the coming season which opens on February 15. The total number of licences offered matches those taken up in 2014, confirmed Director of Natural Resources John Barton at the Islands Fisheries Committee Meeting.
"Fishing has already started on the high seas with a significant fleet and some reasonable catches of Illex reported", said Barton.
The Falklands Calamari season is due to start on February, 24. Barton also reported that a pre-recruit survey started on February 8 with three scientists embarked on the F/V Baffin Bay.
The Committee also examined a report on fishery protection and boarding and it was noted that last year the Falklands Patrol Vessel, FPV Protegat patrolled a total of 267 days with 30 days unavailable due to weather. However the FPV's first patrol of the year was delayed until January 12 due to the Scout colliding with the vessel whilst it was berthed at FIPASS. The FPV steamed 45,244 nautical miles and 113 vessels were boarded and inspected last year.
During the meeting a committee member expressed concern that the vessel was too predictable with regard to its returning times to Stanley, however Mr. Barton reassured that there was no evidence of fishing vessels changing their fishing patterns when the Protegat returned to port.
At the end of the debate Mr Barton commented: "We have a new gun system - we are ready."
Another issue which was informed is that a survey of rockcod biomass is underway using the F/V Castelo. This will provide a further assessment of the rockcod stock in advance of the assessment work and consideration of fishing limits for 2016. Seven scientists and observers are embarked.
Likewise the new finfish mesh regulations came in at the start of 2015. Vessels are arriving with the new codends (the part of the trawl where fish are retained). Observers and Fishery Officers will monitor to see if any issues arise said Mr. Barton.
Another issue brought up at the Committee was a draft code of practice in relation to fishing vessel crew conditions. The draft is currently with the Attorney General's Chambers it was reported at the meeting.
MLA Phyl Rendell said once it was, "polished up," it would be brought back to the working group for examination. It is hoped the final draft will be presented to the committee in April.
A Port Welfare Committee chaired by Mrs. Roberts was set up in the latter part of 2014 which included hospital representation, Seamen's Mission, the Marine Officer and industry/agents representation.
Mr. Barton commented that some of the recommendations were in fact already in practice.
Finally Observer Co-ordinator Joost Pompert explained that staffing levels were still at 7 Scientific Fisheries Observers, one of whom is assigned to collect bird interaction data and conduct various studies and tasks associated with seabird by-catch mitigation.
Deployments are dictated by the requirement for scientific data, with a secondary enforcement role.
Two members of the Fisheries committee expressed a desire for more observers employed by FIG with Tom Blake of RBC Ltd suggesting 5 per cent observer coverage, "rightly or wrongly," might not give the impression of good management of the fishery.(Penguin News).-