Falklands' Sukey Cameron elected chair of UK Overseas Territories Association
Saturday, February 14th 2015 - 06:03 UTC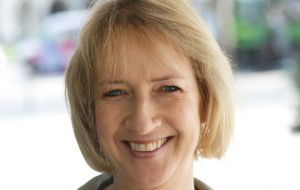 Sukey Cameron MBE, Representing the Falkland Islands Government, was elected Chair of the UK Overseas Territories Association (UKOTA) on Thursday 12 February at the association's annual general meeting, AGM.
Ms Cameron succeeds Albert Poggio OBE, Representative of the Gibraltar Government. The Representative of St. Helena, Kedell Worboys MBE, was elected Honorary Secretary and Chris Carnegy, Representing Tristan da Cuhna, as the Honorary Treasurer.
UKOTA was formed in 1994, on the initiative of the Falklands and Gibraltar Governments, with strong support from the Government of the Cayman Islands.
The Association exists to promote the interests of the UK Overseas Territories and co-operation between them. It aims to promote partnership both between the territories, and between individual territories and the UK. The Territories represented on UKOTA are: Ascension Island, Anguilla, Bermuda, British Virgin Islands, Cayman Islands, Falkland Islands, Gibraltar, Montserrat, Pitcairn, St. Helena, Tristan da Cuhna and Turks and Caicos Islands.
In their work, UKOTA were able to attract focus from HMG on the OTs and that led to the first White Paper on the Overseas Territories in 2002 and they were very much involved in the White paper of 2012. The Association works closely with the Foreign Office in the preparations for the annual Joint Ministerial Council (JMC) and with the Political Leaders of the Territories, organises the pre-JMC meetings and the annual Political Council meeting."
Sukey Cameron, who previously served as Chair between 2009 and 2010, said, "I feel honored to have been elected to Chair UKOTA for the coming year. It is going to be a busy period with the General Election here in the UK and there are important issues facing the Territories. I look forward to working with my colleagues to further cement the relationship of the UK OTs and the UK, whilst continuing to promote our individuality."