London court rules English law applies to Euro-denominated Argentine debt
Saturday, February 14th 2015 - 06:52 UTC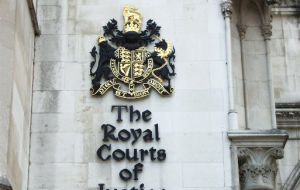 A London court ruled on Friday that English law applies to a disputed case involving interest payments on Euro-denominated Argentine debt, making a payout more likely in spite of conflicting orders from a US court.
The case was brought by a number of investment firms after a US court ruled payments should be halted until a deal was reached between other creditors and Argentina on a payout, following the country's sovereign debt default in 2002.
Claimants included Quantum Partners, the fund run by George Soros, and funds Knighthead Master Fund LP, RGY Investments LLC, and Hayman Capital Master Fund LP.
The London court case involves 225 million Euros ($256.86 million) held under English trust law by trustee Bank of New York Mellon after the money was transferred by Argentina on June 26, 2014.
In response to the ruling by Justice David Richards on Friday, Reynolds Porter Chamberlain, lawyers for the claimants, said they were "very pleased" and that the ruling was a significant step forward in the defense of their interests.
"They have been deeply concerned that their legitimate English law proprietary interests in the payments have not been taken into account in the on-going U.S. litigation," RPC said in a statement.
"They now hope that this Declaration can be brought to the attention of the appropriate Courts at the first available opportunity and that those Courts will have regard to the decision of the English Court".