Cristina Fernandez pledges to continue despite mounting political pressure
Tuesday, February 17th 2015 - 04:19 UTC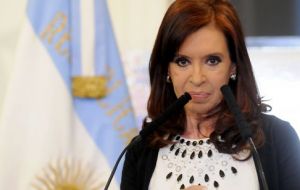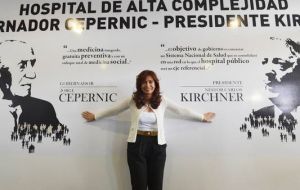 In her first appearance after being charged over the alleged cover-up of the AMIA terrorist attack, Argentine president Cristina Fernández, who has taken refuge at her home in Patagonia, was politically active participating in several public works inaugurations, but in no moment made reference to the case and promised to keep fighting.
The Sunday agenda included hosting the celebration of the 138 anniversary of the Argentino Lake in El Calafate, Santa Cruz province, and the inauguration of a new high complexity hospital.
"This is a modern hospital, I can assure you, I have inaugurated many hospitals but this is state-of-the-art," Cristina Fernandez said about the Governor Cepernic-President Kirchner Hospital, which cost approximately 38 million dollars.
Before her speech, the president held a videoconference with the authorities of Puerto Iguazú City, in Misiones province, where the Doctor Marta Schwarz hospital was inaugurated.
The Argentine president also announced works for 100 new houses, the lake's waterfront, and the beginning of the works for the President Néstor Kirchner and Governor Jorge Ceperninc hydroelectric dams, with China's financing.
Visibly moved, the president thanked Father Carlos "Lito" Álvarez for a candle he offered her at the beginning of the ceremony, taken from a tribute by the people from El Calafate after ex President Néstor Kirchner died in 2010.
"There will always be an Argentinean, a patriot, to light back the candle when they want to advance over our conquests, our rights... so that the flame of the homeland is never again extinguished," the president said.
At no moment did Cristina Fernandez refer to the probe triggered by the still unsolved death of special prosecutor Alberto Nisman on 18 January . But she made it clear she would not bend under the mounting political pressure.
"Some are amazed at how I can endure all I have to endure. I tell them it was here in Patagonia - with the wind, the cold and the snow - that I learned that I can endure anything," she said. "To live in southern Argentina you have to be tough."