"EU tired of waiting" for Mercosur to sign a trade agreement; Paraguay a trusted partner
Tuesday, February 17th 2015 - 19:30 UTC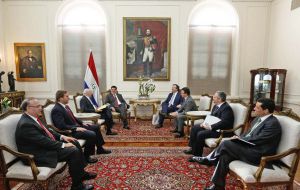 The European Union is tired of waiting for Mercosur to sign a free trade agreement, according to a delegation of Euro members of Parliament visiting Paraguay, a country which they consider a trusted 'ally' in trying to establish closer links with Europe.
The delegation is made up of MEPs Francisco Assis, David Borrelli and Carlos Zorrinho, and arrived in Paraguay where they met with president Horacio Cartes to strongly lobby for the pending EU/Mercosur agreement which has been ongoing since it took off in 1999.
"It's a great honor to talk to the president of Paraguay. We discussed about Mercosur, the European Union, how they are advancing (or not) and prospects of closer relations between Paraguay and Europe", said MEP Assis.
The lobbying delegation follows on recent statements from Germany's foreign minister during his visit to Brazil, Peru and Colombia where he stated that Berlin, representing the most powerful country in Europe, is determined to 'put pressure' on Mercosur members to finally reach a free trade agreement with the South American block.
"Historically EU has always stood by Paraguay and we are now pleased to know that Paraguay is supporting us given the reluctance of Brazil to a certain extent, but mostly Argentina in reaching an agreement", added MEP Assis.
"Paraguay is a country that has outstood in its willingness to contribute for Mercosur and European Union difficulties to be sorted out. We know that with Paraguay we have a strong reliable partner to overcome these challenges", insisted the MEP from Portugal.
The EU delegation is scheduled to meet with several ministers, the president of the country's Supreme Court, as well as members of the Paraguayan legislative, business representatives and other citizens' groupings. The MEPs will also review in the field several cooperation agreements in the country financed by the European Union.
In related news Uruguay's incoming foreign affairs minister, Rodolfo Nin Novoa, who will be sworn in on March first, pledged "sincere and open" relations with the other members of Mercosur.
"We are firmly committed, on instructions from president-elect Tabare Vazquez, to promote and include Uruguay in the world's main trade currents, which means working hard for access to all markets".
Nin Novoa who was vice-president during Vazquez first period (2005/2010), will replace Luis Almagro who apparently has sufficient votes to become the next Secretary General of the Organization of American States, as of next April when Jose Miguel Insulza will be stepping down after ten years in Washington.
Among the main issues left behind by the outgoing administration of president Jose Mujica is relations with Argentina. Mujica's seduction policy towards the administration of president Cristina Fernandez was rather spastic in achievements, with a long collection of affronts from the arrogant leader next door.
Among the dispute issues are Uruguay's pulp mills, questioned by Argentina and which in 2010 ended in the International Court of Justice in The Hague; bilateral trade and the dredging of jointly managed access canals to Uruguayan ports.