Argentine seafood exports reach 1.6bn dollars in 2014; squid and shrimp main items
Wednesday, February 18th 2015 - 11:08 UTC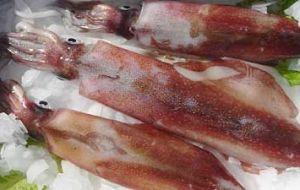 Argentina's fish industry exported 493,244 tons last year totaling nearly 1.6 billion dollars. Although volume decreased 2.7% compared to 2013 (504,165 tons), revenue increased 6.6%, according to the latest report from the National Under-secretariat of Fisheries and Aquaculture.
Squid (Illex argentinus) was the main export item with 119,802 tons, 10% less than in 2013, when 133,082 tons were shipped abroad. Second was hake (Merluccius hubbsi), with 119,367 tons, representing a 1.3% increase from the previous 117,802 tons. Shrimp (Pleoticus muelleri) cames in third with 103,515 tons, accounting for a 13.6% rise compared to the 91.121 tons of 2013.
In terms of value increase, shrimp stands out with 728.6 million dollars in 2014, compared to 614.9 million in 2013, up 18.4%. The value of hake exports also rose 4%, from 286.2 million to 297.8 million dollars. On the other hand squid exports experienced a 30.1% decline, from 235.4 million in 2013 to 164.6 million dollars in 2014.
According to the report of the Secretariat, 125,451.8 tons of shrimp were landed, a volume that made the 2014 season the best in the history of this fishery. In 2013, shrimp landing was 100,670.5 tons and 79,926.9 tons in 2012.
Meanwhile, the Secretariat highlighted the joint work of the national government and the Federal Fisheries Council (CFP), which made it possible to achieve better catches of this crustacean both in size and in tons.
"The protection of reproductive concentrations and spawning of the crustacean during the spring and summer in the Gulf of San Jorge" together with a dynamic ban system moving boundaries and contributions made by inspectors and observers on board, "have been instrumental to increasing catches," the agency said.
Likewise the promotional work regarding Argentine fisheries products, through the hallmark 'Argentine sea, wild and Southern' in major international fairs as the traditional ones held in Boston (Seafood Expo North America), Brussels (European Seafood Exposition) and Vigo (Conxemar). Others fairs also attended include Bracelona's, Seafood Expo Southern Europe; Seoul Seafood Show in Korea, Hong Kong Seafood Expos Asia and Dalian/Qingdao, China Fisheries and Seafood Expo. (FIS).