Nisman's daughters will attend the march to honor their father
Wednesday, February 18th 2015 - 04:50 UTC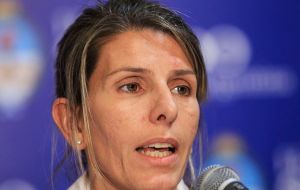 Argentine Federal Judge and former wife of special prosecutor Alberto Nisman, Sandra Arroyo Delgado confirmed that she will be participating at Wednesday's "Silence march" together with her two daughters, Iara and Kala. It was a last minute announcement.
In a release signed "Arroyo Salgado and daughters" the magistrate thanked for the support of all those that will be marching on the month since the still unsolved death of her former husband, and explained the reasons for attending together with her daughters, which is to pay homage to the work displayed by Nisman as a prosecutor and "with no political or social motives involved".
The massive and public call for the march which was supported by voices from other social, political and media sectors, which added to their attendance different demands, thus generating controversy, "puts us in the need, as a family to make clear that our presence is to acknowledge the person Nisman was, and the officer of unconditional and brave commitment to his work which we want to underline", said the release.
The Judge who last week was in Congress where she met with members of the opposition to express her opinion about how the suspicious death of Nisman case was being addressed, and the independence of the Judicial branch, thanked beforehand "all those who will be participating with that sole purpose (of paying homage to Nisman) and at the same time request that the family's wish and that of other citizens is shared in that purpose, and takes place in the framework of peace and respect".
The mother of Nisman, and other members of the family had anticipated they would be attending the silent march.