Thousands expected at the Buenos Aires 'Silence March' marking a month since the death of Nisman
Wednesday, February 18th 2015 - 04:55 UTC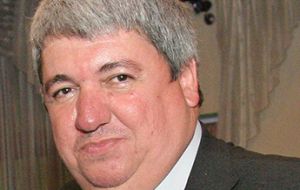 Argentina is preparing for the so called "Silence March" that will take place on Wednesday 18 marking a month since the death of AMIA special prosecutor Alberto Nisman but which has also triggered much controversy among fellow prosecutors and the government of President Cristina Fernandez which describes it as an opposition political rally.
However the march is expected to bring together "a very important amount" of people, anticipated Buenos Aires Metropolitan Police deputy chief Ricardo Pedace who explained security will be also in charge of the Federal Police along with the Prefecture and Gendarmerie forces, pointing out all security areas have been coordinating a joint operation since last Friday. 450 agents of the three federal forces will be deployed, he added.
According to the Metropolitan Police authority, the 18F rally is expected to be attended by thousands, similar to a 2004 mass demonstration that brought together 300,000 people who demanded justice for Axel Blumberg, a young man who was kidnapped and killed.
"We are making different hypothesis and following the backing (to the march), we are estimating a very important amount of people. We thought in an amount similar to the one that Blumberg brought together at the Congress," Pedace said but considered some people might not join the event due to weather conditions as rain is expected for Wednesday tomorrow afternoon. The rally has been expected to start at 6 pm.
"The demonstration will not be in favor of any party and the security perimeter will stop the access of anyone seeking to create problems," he warned. "We will provide security to the relatives (of Alberto Nisman) just like to the rest of the organizers to have a march in peace, a march of silence, to remember prosecutor (Alberto) Nisman".
Ricardo Pedace explained that starting at 3.30 Wednesday all the area will be blocked to the traffic calling drivers and commuters for precaution. The march is scheduled to begin at the Argentine congress and end in the iconic Plaza de Mayo, where Nisman had his office.
Argentina's Security Secretary Sergio Berni said that forces patrolling near the Wednesday march will not be allowed to carry weapons in order to avoid "provocations".