Venezuela ready to address fuel prices: "piece of candy cannot cost more than a liter of gasoline"
Wednesday, February 18th 2015 - 04:28 UTC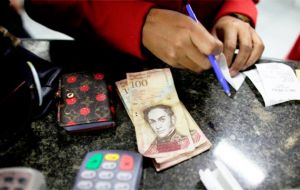 Venezuelan Finance minister Rodolfo Marco Torre announced that "soon there will be important announcements on the issue of gasoline", underlining that "a piece of candy cannot cost more than a liter of gasoline".
Gasoline is so heavily subsidized in Venezuela that one US cent buys about five gallons, costing the government as much as 12 dollars billion annually and spurring a lucrative business in smuggling fuel across the border to neighboring Colombia.
The announcement follows the release by the Venezuelan Central bank that the inflation rate reached 68.5% in 2014, the highest in Latin America, with consumer prices rising 5.3% in the month of December.
The Venezuelan economy officially entered recession half way through last year, and as well as high inflation, a fall in oil prices have added to Venezuelan woes.
The cost of living soared in items such as food, with increases that exceeded 100 percent. The bank did not offer an explanation for the annualized rate, which topped the 2013 rate of 56.2%.
The biggest increases in December came in food and non-alcoholic beverages with an increase of 7.5%, followed by restaurant and hotel service with a rise of 7.4%.
The inflation figure joins a long list of bad economic news that has forced the Bolivarian government into making an adjustment plan. In fact, this week Venezuelan President Nicolas Maduro's government launched a 70% devaluation via a new "free-floating" currency system known as Simadi, the third of three-tier exchange controls created by his predecessor, Hugo Chavez.
Maduro says inflation and shortages of consumer products are the result of an "economic war" led by unscrupulous businesses seeking to undermine his socialist administration. His adversaries say it is the result of the Central Bank vastly expanding the money supply and a steady decline in the productivity of local industry because of a wave of state takeovers.
The country depends 90% on oil exports, and with the international price plunging below 50 dollars a barrel, international reserves are most scarce and the US dollar in the streets trades at between 175 and 190 Bolivar.
Finance minister Marco Torres said in an interview broadcast that his government would be announcing a change of policy soon on gasoline, thus signaling Venezuela is moving ahead with a long-awaited hike in the world's cheapest fuel.
Maduro has suggested a fuel price hike as a means of improving state finances amid a tumble in crude prices, but has repeatedly balked at doing so because many Venezuelans view cheap fuel as a birthright.
"Soon there will be important announcements on the issue of gasoline," Marco Torres said in an interview with regional television network Telesur. "A piece of candy cannot cost more than a liter of gasoline."