Ascension and South Sandwich islands proposed for marine protected areas
Thursday, February 19th 2015 - 05:30 UTC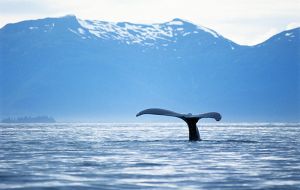 Ahead of the May 7 British general election, a coalition of conservationists and high-profile supporters has called upon the UK government to create three marine reserves that together would more than double the world's protected waters, reports Inhabitat.
The prospective sites for new Marine Protected Areas, (MPAs) include the UK waters surrounding the Pitcairn Islands in the Pacific as well as those around Ascension Island and the South Sandwich Islands in the Atlantic.
The three proposed MPAs would safeguard around 0.7 million square miles, home to threatened whales, sharks, fish, and corals.
Academics, celebrities, and more than 100 conservation groups, including Greenpeace UK, the Blue Marine Foundation, the National Geographic Society, and Pew Charitable Trusts, have banned together to pressure the Foreign Office to declare full protection of these waters. The MPAs would prohibit all commercial fishing in the proposed sites, but allow indigenous fishing to continue in areas up to 18 miles offshore.
"If left unprotected these fragile ecosystems face huge threats from overfishing, illegal pirate fishing, pollution and climate change" the coalition statement said.
Of the three proposals, the one for the uninhabited South Sandwich Islands has been deemed the least likely to pass due to the islands' proximity to the Falklands.But talks are already underway with residents of Ascension and Pitcairn, the government said.
Advanced satellite technology developed by the Pew Charitable Trusts, the Satellite Applications Catapult, and the UK government would help monitor illegal fishing and suspicious activity, driving down the cost of enforcement.