Buenos Aires Herald falls in the hands of a group close to Cristina Fernandez
Thursday, February 19th 2015 - 05:14 UTC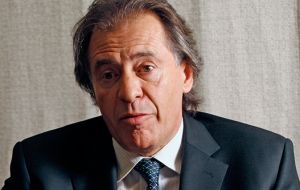 The Indalo Media group which according to Argentine media belongs to businessman Cristobal Lopez, very close to the Kirchner family has purchased 60% of the Ambito editorial group which includes among others the financial daily Ambito, the Buenos Aires Herald and El Ciudadano from Rosario.
The takeover was confirmed by Orlando Vignatti, the previous owner of the group that now becomes partner of gambling tycoon Lopez, and who will remain as General Manager and member of the board.
Fabian de Sousa becomes the next president of the acquired group and Mariano Frutos, vice-president.
The operation apparently was closed last 13 February and the acquisition includes printing plants in Chaco, Cordoba and Rosario. The amount and/or conditions of the transaction were not disclosed.
Indalo Media already controls cable channel C5N, Radio 10; FMs Pop and Mega and the studio Ideas del Sur, among other companies.
The Indalo Group is also involved in the oil business, banking, food, construction, finance, casinos and originally started in Comodoro Rivadavia, Patagonia, where contacts with the Kirchner family became allegedly with time turned into strong business links.