Chilean lawmakers ask Pope to reverse bishop appointment due to sexual abuse allegations
Thursday, February 19th 2015 - 05:51 UTC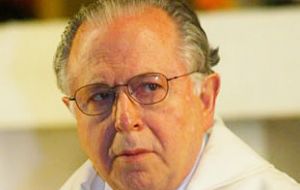 Fifty-one members of the Chilean Parliament have signed a letter asking Pope Francis to reverse the appointment of the Bishop of Osorno, Juan Barros, due to allegations of covering up sexual abuse.
Presented on Monday for delivery to Rome, the letter accuses the new bishop of the Osorno diocese, 940 kilometers south of Santiago, of covering up sexual abuses committed by the Chilean priest Fernando Karadima.
"The letter aims to condemn acts of sexual abuse in the Church, as the Pope has done (and) we believe that he must have sufficient information to review this nomination," legislator Fidel Espinoza told Bio-Bio radio.
The appointment was announced by the Holy See on Jan. 10.
Karadima, an influential octogenarian priest was found guilty in 2011 by the Vatican of committing sexual abuse and sentenced to a life of prayer and penance.
Chilean justice authorities determined that Karadima sexually abused four parishioners between 1981 and 1995, when three of them (Juan Carlos Cruz, Jimmy Hamilton and Jose Andres Murillo) were minors, although he can no longer be charged for the crime due to the statute of limitations.
In a letter sent Feb. 3 to the papal nuncio in Chile, Ivo Scapolo, Cruz, who resides in the United States, claimed that Barros threatened seminarians, covered up sexual abuses and broke the seal of confession.
Despite the outcome of last year's referendum on Scottish independence – namely, keeping the union together – Scotland's politicians have declared independence from the UK ... online.