Maduro's agents arrest metropolitan Caracas mayor on charges of coup attempt
Friday, February 20th 2015 - 03:54 UTC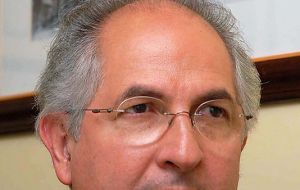 Venezuelan intelligence agents arrested on Thursday opposition leader and Caracas metropolitan mayor Antonio Ledezma, witnesses said, after accusations he was involved in a coup attempt against President Nicolás Maduro.
The agents took him from his office in the banking district of Caracas, without giving a reason, according to witnesses including an opposition legislator and Ledezma's wife.
"I just saw how they took Ledezma out of his office as if he were a dog," wrote opposition legislator Ismael Garcia via Twitter. "They broke down the doors without an arrest warrant."
The arrest adds to tensions one year after the start of three months of opposition demonstrations demanding the resignation of Maduro, whose popularity rating has tumbled amid a recession and chronic product shortages.
Violence around last year's protests left 43 people dead.
The Maduro government in recent days cited an opposition document signed by Ledezma, a veteran opposition leader that called for a "national transition" as evidence he was involved in a coup attempt.
Socialist Party official Diosdado Cabello last week said Ledezma plotted in 2014 to kill jailed opposition leader Leopoldo Lopez in order to stir up unrest that opposition leaders would use to launch a coup.
Maduro frequently denounces alleged coup plots by opposition leaders, usually without presenting concrete evidence.
Colombian news station NTN24 showed a video of what it called the detention of Ledezma. The images showed nearly a dozen troops clad in flak jackets and camouflage uniforms ushering him toward an elevator.
Venezuela has jailed a number of opposition leaders during the last year including López, who helped spearhead last year's opposition protests, and Daniel Ceballos, former mayor of the border city of San Cristobal.
Supporters call them political prisoners who are being persecuted for exercising their right to protest. Maduro's sympathizers call them saboteurs seeking to destabilize the government with US help.