Argentina suggests Judge Griesa to remove Pollack, since he favors 'holdouts'
Saturday, February 21st 2015 - 05:17 UTC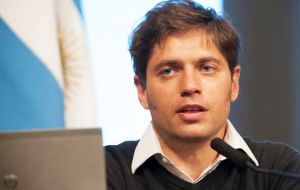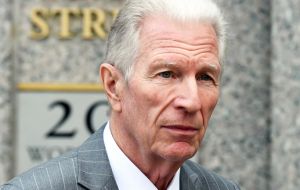 Argentina's Economy minister Axel Kicillof suggested on Friday that no negotiation is possible with the holdout funds as long as 'special master' appointed by US Judge Thomas Griesa continues in his post, since "he clearly favors 'vulture funds' (holdouts)".
Kicillof called on Judge Griesa to look into the way the mediator has been acting, and "removes him" from his responsibilities.
"His (Pollack's) word no longer fits and his last step was a complete clumsiness" added the minister in reference to Thursday's release in which the special master complained Argentina had not replied an invitation to discussions and thus was 'not interested in negotiations'.
"It is very clear where Pollack stands, in favor of the vulture funds (holdouts) and if he takes his coat off you can see his feathers", insisted Kicillof who said that the communiqué was a "financial speculation" maneuver to gain with the bonds by creating unsupported news and installing the idea "that Argentina does not want to negotiate".
Kicillof also asked Judge Griesa to stop bonds' speculation and find "a solution for the 100% of Argentine defaulted bondholders".
On Thursday in reply to the Pollack release claiming Argentina "neither accepted nor otherwise responded" to an invitation to resume negotiations, the Economy ministry replied with a counter release arguing that "the mediator designated by Judge Griesa, Mr. Daniel Pollack, released without consultation with Argentina a press release with the obvious purpose of favoring, again, vulture funds".
The release added that Pollack did not mention in his communiqué the existence of "confidentiality" clauses regarding the meetings held between both parties to settle a legal dispute with so called 'vulture' funds suing Argentina over its defaulted bonds more than a decade ago.
The ministry pointed out that the lawyers representing Buenos Aires had transmitted the "invitation" to resume negotiations which "was under consideration."
"Two weeks after the first call, Pollack, impatient, publicly accuses Argentina of not responding to the invitation with the clear purpose of 'showing' that Argentina does not want to negotiate and 'vulture funds' do. Where is the confidentiality that you, yourself requested, Mr. Pollack? Where is you impartiality as a mediator?"
"If Argentina agreed to negotiate 'in secret,' how long would it take for the information to local and international media to be 'leaked,' affecting the government? If Pollack could not wait not even two weeks before revealing his 'secret' proposal, accusing the government of Argentina," the text said.