China prepared to help Argentina recover its air force with new fighter jets
Wednesday, February 25th 2015 - 05:01 UTC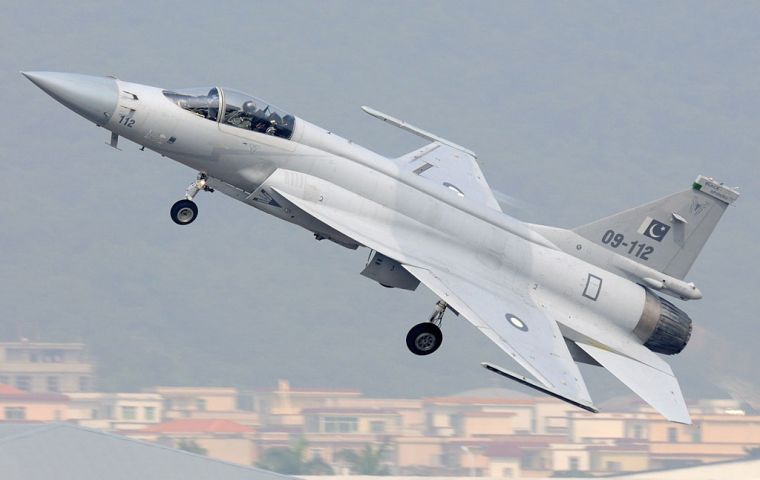 China has agreed to supply Argentina with new fighter jets that will replace its aging fleet of single-engine Dassault Mirage planes. Defense experts said two types of China-developed fighters are likely candidates: the Chengdu Aircraft Corporation-built FC-1/JF-17 and the J-10, according to a report from Chinatopix.
Argentina earlier sought to buy from Brazil, 14 Sweden-developed multi-role Saab Gripen fighters to upgrade its air force fleet but Britain successfully blocked the deal.
Three weeks ago, Argentina President Cristina Fernandez visited Beijing and secured a deal for the transfer of several military equipment, including navy patrol vessels and jet fighters.
As a show of support, China has repeatedly echoed Argentina's claim on the Falkland Islands and compared the rift to China's dispute on islands in the South and East China Seas.
Defense experts said the fighters that China will likely supply to Argentina has their pros and cons. The Chengdu FC-1 is a cheaper and less-capable combat jet but Argentina could buy more FC-1s.
A big concern among military observers is that Argentina's Air Force could have a hard time getting oriented to non-Western hardware. But, experts said exporting jet fighters to Argentina would have a special political importance for China.
The sale could bring prestige and it could open doors to new fighter jet sales for China in South America.
It is believed China most likely provided good financing terms for the sale and it would probably pay special attention to training and maintenance.
China's JF-17 fighter partnership in Pakistan has proven a moderately successful pilot for production programs. The Pakistan Aeronautical Complex and China developed the JF-17 and FC-1 in a pairing that started in 1995.
In 2013, Chengdu Aircraft was in talks with Argentine aerospace firm Fabrica Argentina de Aviones to co-develop the FC-1 in a similar way as the deal in Pakistan. Four years ago, Fabrica and the Aviation Industry Corp. of China agreed to produce the CZ-11 single-engine light multi-purpose helicopter.