Anibal Fernandez calls Uruguayan former president Batlle a 'gorilla'
Thursday, February 26th 2015 - 22:26 UTC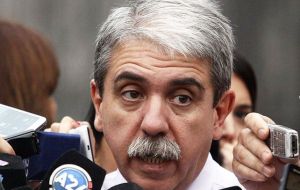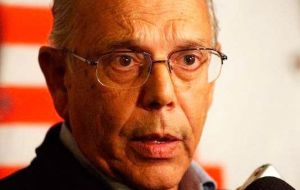 Argentina's Secretary General to the Presidency Anibal Fernández hit back to ex president of Uruguay Jorge Batlle who on Wednesday said Argentina's Cristina Fernandez "hopes to be sacked from the government."
"A gorilla impossible to be stopped," the ex senator and next chief of staff, said of the ex head of state of neighboring Uruguay.
In Argentina, the political term "gorilla" is used by the Peronist movement currently in office, to describe anti-popular sentiments, civil and military. It was the word Anibal Fernandez chose to respond to Uruguay's Battle.
"I heard a conversation that I never told about but I am going to do it now because I heard it and it made me sick. That Mr. (Jorge Batlle) strutted about having visited with his mother the pilots who bombed the Plaza (de Mayo) in June (1955), so I don't know who in Argentina could be satisfied with what a Mr. with these characteristics says," Fernández told reporters.
Fernandez was referring to the deadly June 1955 bombing of the Plaza de Mayo square in Buenos Aires commanded by the Argentine Armed Forces while thousands where expressing their support of leader Juan Domingo Peron. It was a massacre that left 308 dead and hundreds of injured.
"That is why I am not worried about what he says. What interests me is that Uruguay has had a democratic government, that was succeeded by another democratic government and now a new democratic government succeeds it again."
This is not the first time Battle's comments flare up controversy on both sides of the Río de la Plata. Some years ago, he had said that "Argentineans are a gang of thieves, from the very first to the very last of them".
Three months after the Plaza de Mayo bombing, September 1955, Peron was finally ousted from power and fled to Paraguay. The Revolucion Libertadora led by dissident military and strong civilian support prevailed. During the three month interregnum most rebel military, air and navy took refuge in Uruguay. Batlle's mother Matilde Ibañez had dual nationality since she was born in Argentina.