Argentine cabinet reshuffle: Anibal Fernandez becomes chief of staff
Thursday, February 26th 2015 - 22:15 UTC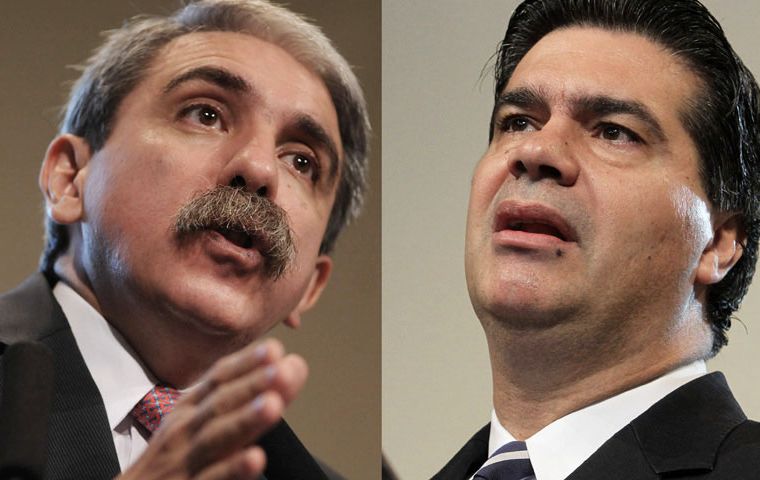 Argentina named the president's chief of staff, Anibal Fernandez, as the new Cabinet chief on Thursday in a reshuffle that comes as the government faces a political crisis. Fernandez, a close political ally of President Cristina Fernandez, who is no relation, will replace Jorge Capitanich, the presidency said.
In a press conference held at the government house, Alfredo Scoccimarro informed Anibal Fernández was replacing Jorge Capitanich while Lawmaker Eduardo "Wado" de Pedro will be succeeding Anibal Fernández as secretary general to the presidency.
Scoccimarro also confirmed Health Minister Juan Manzur will be replaced by his second-in-command Daniel Gollan. Manzur is also expected to return to his native Tucuman province politics.
Foul-mouthed Anibal Fernández held the same job during the first period of Cristina Fernández, 2007/2011. Capitanich is returning to his post as governor of the northern province of Chaco and preparing for a next round of elections.
Fernandez will have among his responsibilities supporting the president in the last leg of her second four years in office, since general elections are scheduled for next October and Cristina Fernandez will be stepping down 10 December.
The next chief of staff, very much linked to the sports industry, was elected senator for the province of Buenos Aires in 2011; before that Justice, Security and Human Rights minister (2007/09) and previously minister of Interior (2003/2007) with former president Nestor Kirchner.
'Wado' de Pedro (38) is chairman of the youth group La Campora, under command of Máximo Kirchner, son of Cristina. He is the son of disappeared parents during the military dictatorship (1976/1983) and was recovered by the Grandmothers of Plaza de Mayo, an organization dedicated to finding the lost children, born in clandestine jails and stole from their mothers to be given out to families with close links to the military.