Truckers strike is bringing Brazil and Rousseff's administration to its knees
Thursday, February 26th 2015 - 05:17 UTC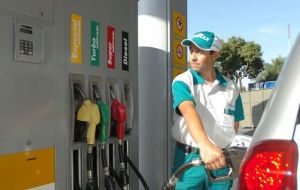 The Brazilian government told truckers and transport companies late Wednesday it would extend a year of free financing for vehicles and pass a law that would benefit the sector if protesters ended a crippling strike now in its eighth day.
It is still unclear whether the late night offer will satisfy the strikers, whose actions have disrupted food and fuel supplies in 10 of Brazil's 26 states.
The measures, put forth by Spokesman for the President Miguel Rossetto, also included a promise the government would allow truckers and transport companies to work out a framework for setting freight rates. And the new law Rossetto spoke of would help lower truckers' toll costs.
Rossetto said, however, that state-run oil company Petrobras had no plan to lower diesel prices over the next six months, which was one of the principal demands of the strikers. The offers only hold if the truckers end the strike, he added.
Highway operator Rota do Oeste in Brazil's top soybean state of Mato Grosso, where the strike started, said truckers are expected to maintain road blockages through the night.
"The problem is the trucker's wallet: if (the government) doesn't lower the price of diesel, then raise freight rates," Diumar Bueno, president of the independent truckers association, who participated in the meetings.
The widespread protests come as President Dilma Rousseff's popularity has slumped to an all-time low because of an economic downturn and a massive corruption scandal at Petrobras.
The truckers' strike has added to Brazil's economic problems, slowing the delivery of parts and raw materials to factories while also forcing farmers to idle harvesters for lack of diesel.
Meanwhile, police on Wednesday clashed and arrested some truckers. Video on Facebook and local media sites showed police in riot gear shooting tear gas, rubber bullets and concussion grenades into blockades of trucks parked on major highways.
Independent truckers and transport companies want lower diesel and toll prices, changes to new regulations on drivers' downtime during long hauls and better road conditions.
Federal highway police said the protests had spread from a few towns in Mato Grosso last week to 99 blockages across 10 of Brazil's 26 states by Wednesday.
With diesel shortages along the soy belt, the harvest of a record crop has been put on hold in some regions.
Dairy farmers are pouring milk down drains, and fruit and vegetables are rotting in the south. Lines are growing outside filling stations in areas short on fuel, and distributors have warned of potential jet fuel shortages at major airports.