Trelew in Patagonia and Caernarfon in Wales to be linked as 'sister-cities'
Friday, February 27th 2015 - 08:29 UTC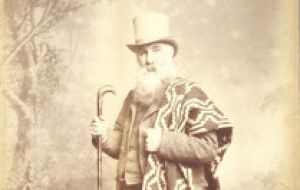 Trelew in Argentine Patagonia and Caernarfon in Wales will be linked as 'sister-cities' during a ceremony scheduled for next Saturday, attended by Lord Dafydd Wigley and a Welsh delegation visiting the country in anticipation of this year's 150th anniversary of the first Cymru settlement in southern Argentina.
The announcement was done by mayor Maximo Perez Catán of Trelew, the city founded by Lewis Jones in the 1860s when the first Welsh immigrants arrived to the province of Chubut.
Lewis Jones was born precisely in Caernarfon, Wales and Trelew was named after him: Tre, city in Welsh and Lew an apocopate of Lewis.
The ceremony will take place in the town's main square where the 'sister-link' documents will be signed, consolidating the close relations between the Welsh settlement and their country of origin.
The documents to be exchanged between representatives from the two cities have copies in Spanish and in original Welsh, drafted by members of the 150th anniversary program commission, following the tradition of original settlers that kept their records in Welsh, Lord Dafydd Wigley will be delivering the documents signed by Caernafron mayor Roy Owen, which will also be stamped by Trelew's Perez Catan.
The 'sisters-link' between the two cities was first proposed when a delegation from Trelew in May 2014 travelled to Wales to consolidate and expand cultural links ahead of the major 2015 celebration, of the 150th anniversary of Cymru settlers arrival to Patagonia.
The initiative received formal unanimous support from Caernarfon city council last July and as such was delivered to Trelew city authorities.