Truckers strike in Brazil still disrupting traffic in several states; soy harvest delayed
Tuesday, March 3rd 2015 - 06:17 UTC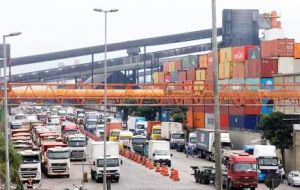 Striking truck drivers resumed some roadblocks in Brazil on Monday even as the government cracked down on protesters and promised to implement a law to lower toll costs and give other benefits to the transport sector.
Nationwide there were 24 road blockages in four states, down from 99 points a week ago, the federal highway police said. Except for two roadblocks on the BR-163 highway in the top soy growing state of Mato Grosso, all were in the south.
In Rio Grande do Sul, where police had completely cleared roads by detaining protesters and bringing in back-up troops on Sunday, striking drivers were stopping cargo trucks at 12 points though they were letting passenger cars pass, police said.
The nearly 2-week-old movement has slowed grain deliveries, forced meat-processing plants to close and left some grocery stores with bare shelves.
A spokesman at the country's No. 2 soy exporting port of Paranagua said it had received 950 trucks so far on Monday, double the previous days but still well below normal for this time of year. Over the weekend only 590 of the usual 3,000 trucks arrived, he added. Roads were blocked at four points in Parana state on Monday.
If the strike continues, Paranagua could struggle to fill soy export orders by tomorrow or Wednesday, the spokesman said.
The soy harvest is 29% complete nationwide, behind the 39% a year earlier as the strike hampers diesel fuel deliveries needed to run farm equipment, the AgRural consultancy said in a report.
Rota do Oeste, which operates the BR-163 in Mato Grosso, said the two blockages were near Lucas do Rio Verde and Sinop but said protesters were preparing to block additional points in Nova Mutum and Sorriso.
The federal government announced President Dilma Rousseff would sign into law a new truckers' bill to lower toll costs, waive fines for overweight trucks charged in the last two years and build more rest points on federal highways.
Though he said the law would do little to address protesters' main concern over high diesel costs, Diumar Bueno, the president of the National Confederation of Autonomous Transporters, told members to stop the protests.
"They can't afford to remain on strike anymore, they need to work," Bueno said, saying the confederation would urge protesters not to heed a call by some truckers to travel to Brasilia to protest.