UK should support the Pacific Alliance
Tuesday, March 3rd 2015 - 22:32 UTC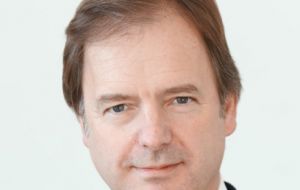 By Hugo Swire of the UK Foreign and Commonwealth Office - A year ago I spoke at a summit in London hosted by the Financial Times and the Foreign and Commonwealth Office (FCO) about how the UK could work most effectively with the 'Pacific Alliance'.
The consensus then, as it remains today, was that this economic bloc, made up of Chile, Colombia, Mexico and Peru, offered new opportunities for the UK to forge closer ties with Latin America for our mutual benefit.
It might be hard to believe now, but a century ago the UK was one of Latin America's top trading partners. After successive World Wars, our focus narrowed to the economies of the west and it's fair to say that in spite of our efforts in recent years, the UK's economic relationships in Latin America still have a lot of room for growth. The Pacific Alliance, formally launched in 2012 to promote regional integration and growth, continues to provide an important opportunity for the UK to increase our engagement in this region.
When combined, the economies of the four Pacific Alliance countries account for 35 per cent of Latin America's GDP and half of its international trade. They have posted some of the highest growth rates in the region and were again rated the four best countries in Latin America in the latest World Bank Ease of Doing Business report. There are clearly plenty of opportunities to increase our trade.
So what has been achieved over the course of this year? The answer is, quite a lot, especially considering that the Alliance is still a relatively new group. In particular, the areas of economic integration, competitiveness and transparency have seen real developments.
At the Ninth Pacific Alliance Summit, held in Mexico in June, Heads of State agreed to the integration of stock exchanges, joint trade offices and cultural and sporting ties. This will make trade easier and encourage more flexibility in working across all four countries. Ultimately, we hope that the bloc will be able to compete even more effectively with other markets.
Last January all four Heads stood up in Peru to express their concerns about climate change at Lima 2014. President Santos of Colombia announced a $6m contribution to the Green Climate Fund and President Bachelet of Chile called on the whole region to follow the Pacific Alliance's example by committing to a 20 per cent reduction in emissions by 2020.
As an observer country of the Pacific Alliance, we support its ongoing work to promote growth and a rules-based economic system. We're working with the Alliance in areas where the UK has world-leading expertise, like competitiveness, education, science and innovation. For example, we have targeted some of our Chevening scholarships to provide successful candidates from Mexico, Colombia, Peru or Chile with the opportunity to study for masters degrees relating to the Alliance's goals at some of the UK's top-rated universities. And our Newton Fund, launched last year, continues to work successfully across the Alliance countries to strengthen collaboration on science, innovation and research.
In February we carried out a regional workshop in Panama, which, along with Costa Rica, aims to become an Alliance member. This focused on the conditions required for fair and competitive markets. Increased transparency across the region can only be good for trade and this is why we are providing strong support to Colombia as it works to join Chile and Mexico as members of the OECD, while we also support Peru in reaching the technical criteria required for entry.
All of this is incredibly positive news, and the FCO welcomes the wealth of opportunities on offer for British firms in areas like mining, retail, infrastructure, health and education. But the Alliance is a relatively new bloc, and as such has understandably set itself ambitious and stretching objectives. This is, after all, a group of countries looking not just at trade but at cultural and educational links, too. It is also seeking, by its very nature, to build strong relationships across the Pacific, in Asia, alongside those it develops in Europe and Africa. Time will tell how the Alliance chooses to prioritize these varied goals.
Chile recently hosted the very first meeting of foreign ministers from the Pacific Alliance and Mercosur – a group set up in the early nineties comprised of Argentina, Brazil, Paraguay, Uruguay and Venezuela. It stands to reason that two blocs in the same region with similar integrationist objectives need to work together to succeed, and I understand that closer ties were discussed. Looking to the year ahead, it will be interesting to see what this will mean in practice.
And of course there are even some ideological differences within the Pacific Alliance. After all, these are four distinct countries with varying histories. However, from my own experience of the Pacific Alliance, having visited all four members, and Panama and Costa Rica last year alone, I have seen that there is clear political will to overcome any challenges to further integration. This bodes well for the continued success of the group as it tackles some of its more ambitious targets.
It may be clichéd, but the last five years have shown that the dynamics of global trade are changing, and it is clear that now is the time for emerging markets to seize their opportunity. The Pacific Alliance is clearly determined to do so and, if we're smart, we should stand ready to support them as they do.