ECB stimuli bond-purchase to begin next Monday, announces Dragui
Friday, March 6th 2015 - 18:25 UTC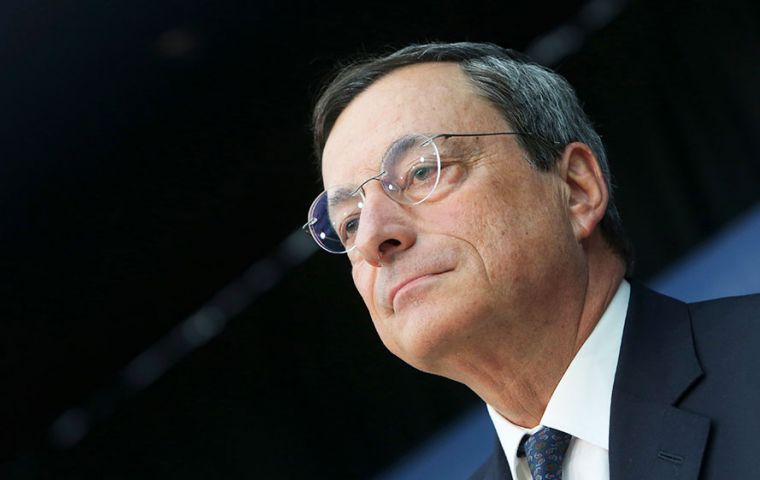 Following a meeting of the European Central Bank's rate-setting Governing Council in Cyprus on Thursday, ECB president Mario Draghi said the bank would start buying sovereign bonds from Euro zone countries on Monday next week.
"We will on 9 March 2015 start purchasing euro-dominated public sector securities in the secondary market. We will also continue to purchase asset-backed securities and covered bonds which we started last year," Draghi told a news conference in the Cypriot capital Nicosia.
Germany's blue chip stock index, the DAX, jumped to a new high of 11,527 points after Draghi's comments. The Euro fell to a fresh 11-year low against the dollar of $1.10.
In January, the central bank for the Euro currency area unveiled an aggressive plan to stimulate the flagging Euro-zone economy that would involve printing 60 billion Euros a month from March this year until September 2016 to finance large-scale purchasing of public and private assets.
The ECB program, also known as quantitative easing, marks the most far-reaching attempt yet by the central bank to prop up the 19-member common currency bloc. In all, the bank intends to spend 1.14 trillion Euros over 19 months to spur inflation and encourage lending in the real economy.
Regretting the Euro zone's dip into deflation in the first two months of 2015, when consumer prices had fallen substantially, Draghi explained that the decision to put more than 1 trillion freshly minted Euros into circulation also had to do with unfavorable expectations for the future.
The buying will start as the Euro zone shows signs of accelerating growth with major consumption and leading indicators beating forecasts since the ECB unveiled the asset purchase plan.
On Thursday, Draghi said that the ECB's moves would support the emerging data.
The new scheme will build on another stimulus program announced by the ECB last December, under which the bank declared it would buy privately owned asset-backed securities and covered bonds.