South Atlantic Air-bridge to the Falklands restricted to certain nationalities
Friday, March 6th 2015 - 07:52 UTC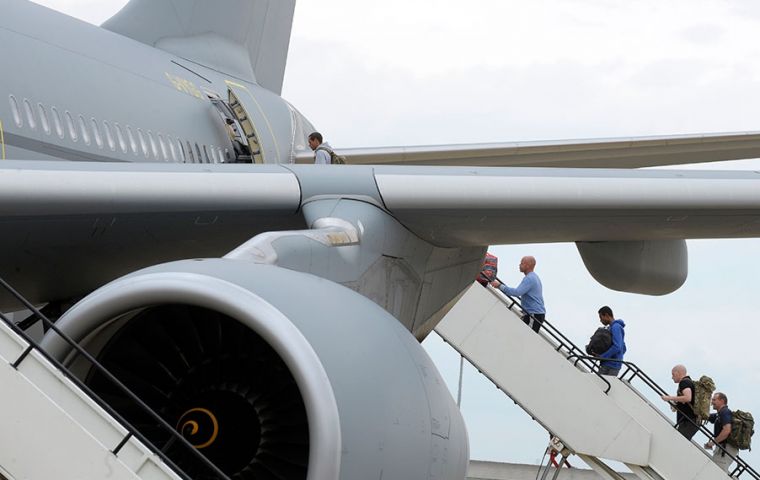 The South Atlantic Air-bridge linking RAF Brize Norton in the UK with the Falkland Islands will no longer fly nationals from a list of countries and although no specific reasons were given, the release underlines that the "Ministry of Defense places the greatest importance on the security of its people, facilities and operations".
The statement was issued on Thursday, with immediate effect, by the British Forces Media Operations addressed to the Falklands community, referred to as "recent Ministry of Defense policy changes that affect the South Atlantic Air-bridge".
The statement follows:
"The MOD has reviewed its practices regarding access to its operational defense establishments, such as RAF Brize Norton, and has had to introduce some restrictions in respect of the nationalities that can in future be carried on the SAA. With immediate effect, countries whose nationals are excluded from carriage on the SAA are currently: Belarus, China, Egypt, Iran, Libya, North Korea, Russia, Syria, Ukraine, and Vietnam. This policy will remain under regular review.
"We apologize for the inconvenience that this policy change will undoubtedly cause. Please be assured that urgent, exceptional requirements such as humanitarian need, or critical importance to the interests of the Falkland Islands will be considered by the MOD on a case-by-case basis, although there can be no guarantee of an acceptance of such requests.
"While I am not at liberty to discuss the specific reasons for this decision, I am sure you will understand that the MOD places the greatest importance on the security of its people, facilities and operations. By restricting access to the SAA in this way, we will ensure that the vast majority of users can continue to travel as before. We believe that this will affect only a relatively small number of people. Those who are affected by these changes are reminded that there are alternative means of travel between the UK and the Falkland Islands.
"These changes do not affect other flights currently using Mount Pleasant Airport, such as the LAN Chile or oil charter flights. "