Argentina's beef production tepid recovery forecasted to remain flat in 2015
Saturday, March 7th 2015 - 07:59 UTC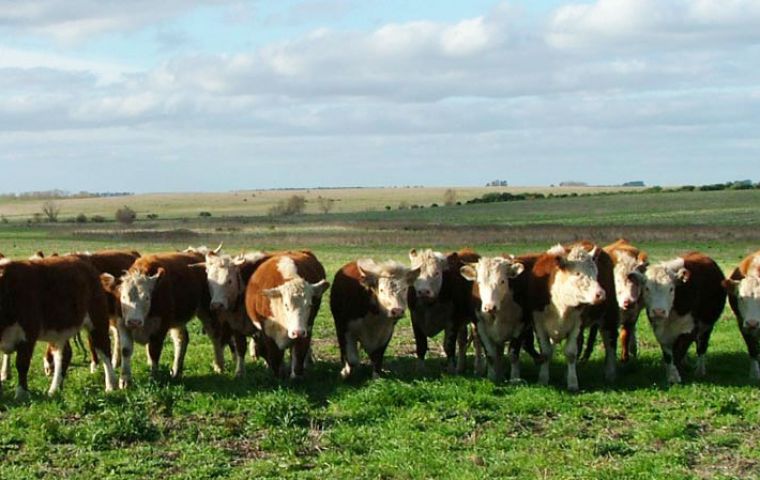 Argentina's revival as a major force in beef has been slowed by a dent to calving rates from poor weather, besides by a reluctance by producers to maximize animal weights, in the face of export restrictions.
A recovery in Argentine beef production from a 12-year low of 2.53m tons in 2011 went into reverse last year, the US Department of Agriculture bureau in Buenos Aires said.
The bureau pegged output last year at 2.7m tons, 120,000 tons below the USDA's official estimate. And the bureau dashed ideas of an increase in beef output this year too, seeing it hold at 2.7m tons.
The forecast reflected in part a reluctance by farmers to maximize weight gains in animals, in a market where beef prices are constrained by government curbs on exports, including a permit system and a 15% tax.
"Export limitations and export taxes encourage producers to finish light heifers and steers, weighing approximately 300 kilos live weight," the bureau said. "This factor is playing against Argentina's possibility of producing more beef for the domestic and export markets."
Argentina in the late 19th century became a world force in beef exports, as its southern hemisphere location, and the spread of refrigerated transport, led to a boom in shipments to Europe and North America.
Furthermore, while high prices did encourage some farmers to fatten cattle for longer late last year, "high temperatures in December slowed down weight gains".
"Excessive" heat the previous summer "affected pregnancy rates more than anticipated, as did winter flooding due to excess rain in the main cow-calf area in the province of Buenos Aires which provoked greater losses of calves than projected", the bureau added.
It estimated the Argentine calf crop last year at 13.5m head, 200,000 head below the official USDA figure. And the bureau also forecast lower slaughter rates, ahead of October presidential elections at which the fortunes of the country's iconic beef industry have become a hot topic.
"Many contacts indicates that most presidential candidates have promised substantial change in policy as part of their campaign platform."
In fact, Argentine authorities have already taken steps to attempt to promote Argentina beef exports, attempting in particular to open up access to the growing Chinese import market, which the USDA pegs at 515,000 tons this year – up from 99,000 tons in 2011.
Argentine agriculture minister Carlos Casamiquela last month termed "very positive" the results for beef trade prospects from an official mission to China.
Nonetheless, the USDA bureau pegged Argentina's beef exports at 200,000 tons this year, above the 164,000 tons reached in 2012 which was the lowest since at least the 1950s, but well below recent highs.
Argentina in 2005 exported 754,000 tons of beef. Shipments of 200,000 tons would place Argentina behind the likes of Belarus, Paraguay and Uruguay in the world export league.