Former French Olympic sports' figures die in helicopter collision in Argentina
Tuesday, March 10th 2015 - 06:12 UTC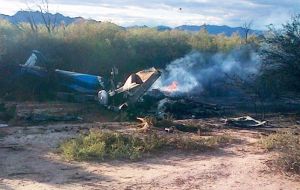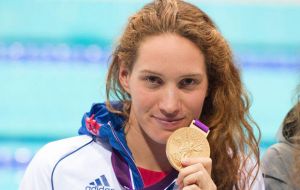 Two helicopters have collided in mid-air in northern Argentina, killing 10 people including cast members filming a French reality show, officials said. The crash happened Monday afternoon in a mountainous part of La Rioja, a scenic area popular with tourists, around 1,100 kilometres north of the capital Buenos Aires.
Police said the victims were eight French nationals and two Argentine pilots.
La Rioja provincial government spokesman Horacio Alarcon said the helicopters appeared to have flown into each other.
"Apparently, the two helicopters collided as they were filming. There are no survivors," he said.
Mr Alarcon said the weather conditions were good but the exact cause of the collision was unknown.
The cast had been filming a survival TV series in the remote and rugged region of Quebrada El Yeso and Quebrada Condado.
French media reported that retired French swimmer Camille Muffat died in a helicopter crash while filming a reality TV show in Argentina.
Muffat is a three-time Olympic medalist and former World Record holder. She held both the 400 SCM freestyle and 800 SCM freestyle World Records from November of 2012 to August of 2013.
As a two-time French Olympian in 2008 and 2012, she appeared in multiple Olympic finals. Her highest finish at the 2008 Beijing Olympics was fifth as a member of the women's 4×200 freestyle relay. In the 2012 London Olympics, she won a gold medal in the women's 400 freestyle, setting a new Olympic record in the process. She earned a silver medal in the women's 200 meter freestyle, and a bronze medal as a member of the women's 4×200 freestyle relay. She was also the third Frenchwoman in history to earn 3 medals in a summer or winter Olympic Games. Outside of the pool, she was named the 2012 French Sportswoman of the Year.
Muffat was to be on the cast of the French version of the Swedish reality TV show, "Dropped," in which two teams of celebrities –in this case, elite athletes– are dropped in difficult terrain where the challenge is to find civilization. The first team to reach a power source and call the base wins; the other team must vote a team member off.
Muffat, two other French sports figures, five members of the production staff, and the two Argentine pilots are reported to have died when the two helicopters collided in mid-air.
Muffat retired in the summer of 2014,somewhat abruptly, at only 24-years old.
The death of Muffat, along with boxer Alexis Vastine, and sailor Florence Arthaud has been confirmed by local officials, according to French news site 20minutes, among others. Muffat's fellow French Olympic swimmer, Alain Bernard, was also a part of the show, but has been confirmed to be alive by both his agent and his mother.
The Argentine site, La Rioja es Noticia, released the list of names of those who perished in the crash:
Juan Carlos Castillo, helicopter pilot
Roberto Abate, helicopter pilot,
Laurent Sbasnik, filming
Lucier Mei-Dalby, filming
Volodia Guinard, filming
Brice Guilbert, art direction
Edouard Gilles, sound
Camille Muffat, Olympic swimmer
Alexis Vastine, Olympic boxer
Florence Arhaud, champion sailor