Bolivia names first woman army General; daughter of the officer who captured Che Guevara
Wednesday, March 11th 2015 - 05:23 UTC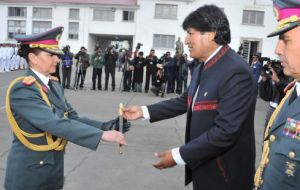 Bolivia has named its first woman army general, the daughter of the military commander who led the final operation against Che Guevara, the state news agency said Monday.
Gina Reque Teran, 53, was officially promoted to general by President Evo Morales in a ceremony at the main army barracks in the capital La Paz, said ABI news agency.
She is the daughter of retired general Luis Reque Teran, who led the Bolivian army's operations at Quebrada del Yuro against Guevara's rebel forces in 1967.
The battle was the Argentine-Cuban revolutionary's last before his capture by Bolivian troops backed by the US Central Intelligence Agency and execution several days later.
Two women were also named generals in the national police force, another first for Bolivia.