Online petition for reinstatement of Top Gear's Clarkson close to half a million signatures
Wednesday, March 11th 2015 - 23:42 UTC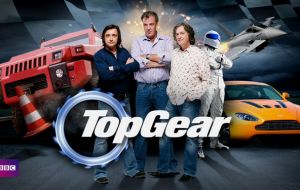 Jeremy Clarkson made light of his suspension by the BBC on Wednesday as an online petition for him to be reinstated topped 500,000 signatures. The Top Gear presenter told reporters he was "just off to the job centre" as he left his home in London on Wednesday. Asked if he had any regrets about what had happened, he replied "yes".
The 54-year-old star was suspended on Tuesday following what the BBC said was "a fracas" with producer Oisin Tymon. Sunday's episode of Top Gear will not be shown, and it is understood the two final episodes in the series will also be dropped.
The online petition in support of Clarkson - set up by political blogger Guido Fawkes - was nearing half a million signatures less than 24 hours after it was launched on Tuesday afternoon.
Earlier, Clarkson's co-presenter James May said: "I think he's been involved in a bit of a dust-up and I don't think it's that serious." He said he had not been present at the alleged incident.
Top Gear is one of the BBC's most popular and profitable TV shows, with Clarkson appearing on it since 1988. The program has an estimated global audience of 350 million.
The former Chair of the BBC Trust - Sir Michael Lyons - said the focus should be on the incident alone, and that the popularity of the show should not influence the corporation's decision.
Top Gear's estimated worldwide audience: 1977 Top Gear began as a local show on BBC Midlands; 170 plus episodes in its current format (since 2002); 3 million YouTube subscribers and 1.7 million global circulation of Top Gear magazine
"There is nobody who is bigger than the BBC's reputation," he said. "This has been a nagging problem for some time. But it must be dealt with on the facts of the moment - not the sort of legacy and it certainly mustn't be clouded by arguments about what the BBC earns.
"I think the BBC's learnt that actually it can replace even the biggest names, even if needs to, and I'm not saying it needs to."
Former culture secretary Maria Miller said the BBC had to improve the way it dealt with "larger than life characters".
"I think they need to sort this mess out quickly, and not be seen to be punishing the fans," she told BBC Radio 4's World at One.
"It's a fantastic show and I really think the BBC has got an obligation to get this sorted."
Earlier on Wednesday, Clarkson had retweeted a message to his 4.5m Twitter followers from a Top Gear viewer which read: "How can BBC not show the remaining episodes of Top Gear, can't this be resolved without making the fans suffer?"
He had also exchanged suggestions on Twitter with Top Gear co-hosts Richard Hammond and May about films that could be aired in place o Sunday's planned episode.
The Daily Mirror said the alleged incident took place after filming in Newcastle over a lack of catering.
Clarkson's suspension was announced in a BBC statement on Tuesday afternoon which said: "Following a fracas with a BBC producer, Jeremy Clarkson has been suspended pending an investigation.
"No one else has been suspended. Top Gear will not be broadcast this Sunday. The BBC will be making no further comment at this time."
Perry McCarthy, the original Top Gear stunt driver The Stig, said he thought the BBC had taken the show off the air too quickly. "Why take the show off air while they look into it? I just think it's a complete overreaction."
Clarkson and his co-presenters are scheduled to appear in four Top Gear Live stadium shows in Norway at the end of this month. BBC Worldwide confirmed tickets are still on sale.
Other shows are due to take place in Sydney, Australia, in April, as well as several dates in the UK.
Top Gear's executive producer, Andy Wilman, described last year as an "annus horribilis" after accusations of racism and an incident in which the show's crew were forced to flee Argentina after it emerged they were using a Porsche with a registration plate which some suggested could refer to the Falklands conflict of 1982. (BBC).