HMS Dragon calls at Cape Town's naval base for mid-deployment break
Thursday, March 12th 2015 - 09:20 UTC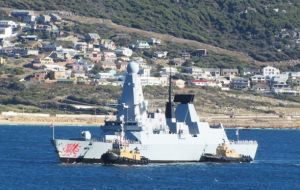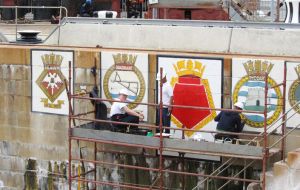 There is a permanent reminder of the Royal Navy's HMS Dragon's first visit to South Africa as the destroyer upheld a 90-year-old tradition. A large painting of the ship's badge, featuring her namesake mythical beast, adorns the wall of the cavernous dry dock where the Portsmouth-based warship spent her mid-deployment break, receiving some TLC after a four-month battering from the Pacific and Atlantic.
More than 150 crests adorn the Norwegian granite walls of the dock in Simon's Town Naval Base near Cape Town.
The dock was built a century ago to accommodate the largest Royal Navy battleships and battle-cruisers of the day and it became tradition for sailors to paint their crests on the walls whilst their vessels were undergoing maintenance.
It was a custom also carried out at other overseas dockyards, notably Bermuda, now closed and the crests gone as part of a redevelopment. In Simon's Town, however, the practice continues.
And Dragon's sailors joined workers from ARMSCOR who run the dockyard to squeeze their crest between those belonging to wartime destroyers HMS Redoubt and Quadrant, whose badges were also given a fresh lick of paint.
The previous Dragon, a WW1 cruiser which served until 1943 when it was transferred to the Polish Navy, used the dock at least twice, but her insignia was either never added, or has faded over time.
The oldest badge on the dock walls has been dated to 1922.
As for the Type 45 destroyer, which features a giant red dragon motif on her port bow, after a visit to Cape Town following her fortnight of maintenance in Simon's Town, she's continued her Atlantic patrol and is currently exercising with African navies. She's due home in Portsmouth later this spring.
Ships and units on Atlantic Patrol Tasking (South) provide ongoing protection and reassurance to British interests in the South Atlantic, maintaining the continuous Royal Naval presence in the Atlantic. (RN)