HSBC top officers insist on staying; blame lower staff and the media and accept MPs criticisms
Thursday, March 12th 2015 - 00:53 UTC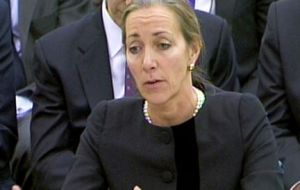 HSBC executives have been accused by MPs of incompetence for saying they were unaware of tax evasion activities in their Swiss private bank. However Chris Meares, the ex-head of HSBC's private banking division, said he didn't know what staff "were up to".
"Either you're completely incompetent in your oversight duties or you knew about it," said Public Accounts Committee (PAC) chair Margaret Hodge. She also called for ex-HSBC risk chair Rona Fairhead to quit the BBC.
Ms Fairhead took over as chair of the BBC Trust last year, but before that she was chair of HSBC's audit committee until 2010 and subsequently led the bank's risk committee.
"When things go wrong in the public sector on your watch you resign. No one has deigned to accept responsibility," added Ms Hodge during the hearing, saying that Ms Fairhead's performance at HSBC raised serious questions about her current position as chair of the BBC Trust.
"I think the government should sack you," she said.
Information about some 30,000 accounts at HSBC's Swiss private bank were leaked in 2007 to French tax officials who passed it on to the UK tax authorities (HMRC). The tax evasion at the bank came to light in February, when the documents, leaked by whistleblower Herve Falciani, were obtained by the French newspaper Le Monde.
In a joint investigation, the documents were then passed on to the International Consortium of Investigative Journalists, the Guardian newspaper, the BBC's Panorama and more than 50 media outlets around the world.
Ms Fairhead said the proper structures were in place while she was in charge of the audit committee at HSBC, including a reliance on reports from local managers.
"I think it is reasonable for non-executive directors in an oversight role to rely on the structures in place provided the policy is there [and] the people look like they're on top of the risks," she said.
However she acknowledged that the realities of the banking industry had changed while she was in the role.
"As [HSBC] acquired more businesses, it became more complex and there were a huge number of standards on money laundering and tax that we were complying with," she said.
"We got to the stage where a 130-year-old, 140-year old structure was no longer fit for purpose."
She said the board relied on information from local managers, and blamed Swiss employees for lax oversight.
That was a line of argument echoed by Mr. Meares, who was formerly head of global banking, which included the Swiss unit.
While he acknowledged that he was "fairly responsible" for employees in global private banking, he said the tax evasion was a result of "control failings". But he refuted claims from MPs that he was being pushed to be the "fall guy" for HSBC's tax avoidance behavior.
Two weeks ago, HSBC's chairman, Douglas Flint, appeared to blame for alleged collusion between the Swiss private banking division and its clients to evade tax.
Also during the hearing, Stuart Gulliver, the chief executive of HSBC, admitted that his personal financial arrangements had damaged the bank's reputation. Here also Mr. Gulliver blamed "media innuendo" for the damage.
He said his banking arrangements, which included a Panamanian shell company, were not set up for tax avoidance. He further insisted he was fit to stay on as head of HSBC.
"I would like the chance to finish what I've started," he said, citing his efforts to make HSBC's compliance procedures the "highest standards of money laundering controls" during his five years as head of the firm.
He defended his personal financial structure - which includes being domiciled in Hong Kong, a Swiss bank account, and a Panamanian shell company he once held for privacy reasons - by saying when the accounts were created, he was a junior employee in Hong Kong.
"I pay millions of pounds of tax to [the UK tax authority] at the top rate each year," he said.
HSBC has been involved in a range of banking scandals, including foreign exchange manipulation and rigging of international interest rate benchmarks.