Argentine Judge elected by peers head of the International Criminal Court
Friday, March 13th 2015 - 11:02 UTC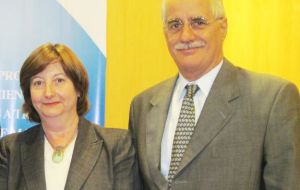 An Argentine has been elected by her peers to lead the International Criminal Court (ICC) in The Hague. Judges of the ICC, sitting in a plenary session, elected Silvia Fernandez de Gurmendi as president of the court for a three-year term with immediate effect, the organization said in a news release.
After being elected, Fernandez de Gurmendi said it was a "great honor" to have been elected to head the most important instrument of international justice to have been developed since 1945.
"I will do my utmost to live up to the trust that my fellow judges have placed in me," the lawyer and diplomat told UN Radio, adding that she was looking forward to working "in fulfilling the ICC's important mandate for the sake of justice, peace and the rule of law."
Fernandez de Gurmendi also stressed the role of judges Joyce Aluoch (Kenya) and Kuniko Ozaki (Japan), who were elected first and second vice-president respectively.
The presidency of the tribunal coordinates with the other organs and seeks the concurrence of the prosecutor on matters of mutual concern, the organization explained in a news release yesterday. It also seals cooperation agreements with states and international organizations.
Fernandez de Gurmendi has years of experience of international and humanitarian law and in human rights.
Born in Cordoba province in 1954, she studied at Cordoba's National University (UNC) and at the University of Buenos Aires (UBA). A career diplomat, she first arrived at the ICC in The Hague, Netherlands, in November 2009 from the Foreign Affairs Ministry, who was then headed by Jorge Taiana.
The judge has acted as the Argentine representative in cases before the Inter-American Commission on Human Rights (IACHR) and the Inter-American Court of Justice.
She has also represented Argentina before world and regional human rights bodies and advised on transitional justice issues related to the prevention of genocide and other international crimes.
Fernandez de Gurmendi "has also published a number of national and international publications related to the International Criminal Court including, among others, the role of the Prosecutor, criminal procedure, and the definitions of victims," the ICC explained. She replaces Judge Sang-Hyun-song of South Korea as president of the ICC.
The ICC is a treaty-based international tribunal for the prosecution and sanction of the most serious crimes against humanity and war crimes.