Brazil central bank admits interest policy has not been effective in fighting inflation
Friday, March 13th 2015 - 11:28 UTC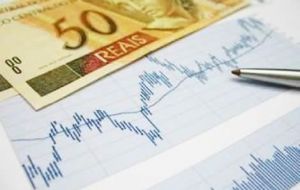 Brazil's Central Bank appears likely to continue raising interest rates in the short-term, saying in its most recent meeting that its inflation-fighting effort in recent months has been insufficiently effective. The view was reflected in the minutes, published on Thursday, of its monetary policy committee's March 4 meeting, when the bank raised its benchmark Selic interest rate by 50 basis points to 12.75%.
That marked the bank's fourth consecutive rate hike, but despite those moves the annual inflation rate rose in February to 7.7%, its highest level since 2005. The minutes, however, said there is a stronger possibility of Brazil meeting its inflation target of 4.5% in 2016.
The Central Bank said that, despite credit being more expensive due to higher interest rates, domestic demand will remain "moderate" and household consumption should "stabilize."
Likewise, the monetary authority said the economic climate is conducive to investment, citing, among others reasons, relatively favorable financial conditions in sectors such as real estate and agriculture.
Brazil's central bank sees inflation quickening in 2015 despite its aggressive interest rate hikes, but sees higher chances of prices easing back toward the target in 2016, the bank said in the minutes of its last rate-setting meeting released on Thursday.
The central bank raised its benchmark Selic interest rate to its highest in six years last week, maintaining the aggressive pace of monetary tightening to control a surge in inflation.
In the minutes, the central bank removed previous reference to inflation entering a period of long decline in 2015.
Meanwhile the Brazilian Real resumed its weakening trend late on Thursday, with the currency closing 1% lower (3.1660 to the US dollar) after posting gains of more than 1% right after markets opened.
The Real was unable to benefit from the respite in global foreign exchange markets as investors worried about President Dilma Rousseff's ability to pass fiscal austerity measures at a time when her popularity is dropping and her Congress coalition is weakening. Without fiscal adjustments, Brazil risks additional downgrades of its sovereign credit rating in the next few months.