Brazil's meats giant JBS plans no further acquisitions; about 80% of debts in dollars
Friday, March 13th 2015 - 13:24 UTC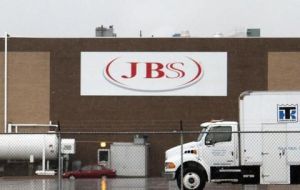 Brazilian meats giant JBS SA plans to focus on Australia, U.S. pork operations and its processed foods division under a 2015 strategy focused on "organic expansion" rather than acquisitions, CEO Wesley Batista said on Thursday, and estimated that between 2.5 billion to 3 billion reais (806 million/967 million dollars) in capital investment will be needed this year to support the strategy.
The company first said it would not seek new acquisitions this year in its fourth-quarter earnings statement on Wednesday, ending a years-long strategy of aggressive takeovers.
"We have many fruits to harvest," Batista said of the company's recent acquisitions.
JBS plans to finalize its 1.25bn purchase of Australian processed foods maker Primo Smallgoods this month. The deal, announced in November, is an opportunity to increase sales in Asian markets.
The company also has more synergies to reap from the 2013 purchase of Brazilian poultry producer Seara, Batista said.
After reporting 2014 revenue of 120 billion reais, the one-time family-run butcher surpassed miner Vale SA as Brazil's largest private sector non-bank company by revenue.
Batista said JBS would continue to protect its business with hedge contracts in dollars, a strategy it adopted to avoid losses related to a weakening real. About 80% of JBS's debt is in dollars.
"Last year we made the decision to be 100 percent hedged. We paid a heavy price at the beginning of the year ... but we had the right strategy," Batista said.
Batista said a suspected case of avian influenza in Arkansas identified on Tuesday would have little or no impact on the finances of JBS or its U.S. poultry affiliate Pilgrims Pride .
"Exports at Pilgrim's represent 8% of our business ... even if some markets close we do not think this will hurt our profit margins," Batista said.