Argentina declassifies all files connected to the 1994 AMIA attack
Sunday, March 15th 2015 - 01:02 UTC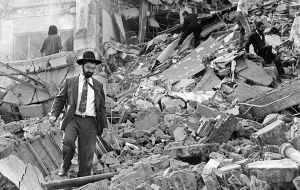 The administration of President Cristina Fernandez has ordered the declassification of all files connected with the attack against the AMIA Jewish community center that took place in 1994 in Buenos Aires City. Some of the documents were already in the hands of the special prosecutor in charge of investigating the bombing, now late Alberto Nisman.
The decision follows a request by the new prosecutors leading the AMIA probe. It was published on Friday under the 395/2015 decree in the Argentine official gazette, setting the "declassification" of such files which include as well additional information currently in power of the recently created Federal Intelligence Agency and documentation that might not have been referred to the AMIA special prosecutor's office.
AMIA prosecutors Roberto Javier Salum, Sabrina Namer and Patricio Sabadini requested to have the documents declassified on March 10 with the government giving a green light to the decision on March 11.
In their write, Salum, Namer and Sabadini demanded to have "all off the documentation that was opportunely the object of consultation within the framework of the Unity of Revelation of Information, which was referred to this Unit through the Resolution SI 'R' N° 119/.6, security code N° 538" (declassified). This with the objective of guaranteeing the full access to the parts of such documents".