The non humble fellow Argentines according to Pope Francis
Sunday, March 15th 2015 - 02:19 UTC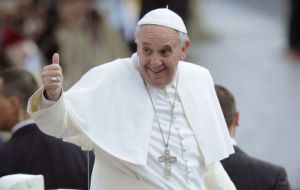 Pope Francis during one of the several interviews motivated by his two years in the Vatican, also referred to his fellow citizens in Argentina, which he described as non humble and on the contrary rather vain and arrogant.
"The Argentines when they saw an Argentine pope had been named, they forgot about who was in favor or against an Argentine pope. And we Argentines are non humble, but rather vain and arrogant" said Pope Francis, the former archbishop of Buenos Aires City.
He then asked the Mexican reporter that was interviewing him if she knew how Argentines commit suicide.
"Well very simple, they climb on to their ego and then jump off!!!!"