Unasur calls on the US to revoke measures against Venezuela and implement dialogue
Monday, March 16th 2015 - 10:08 UTC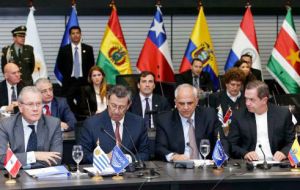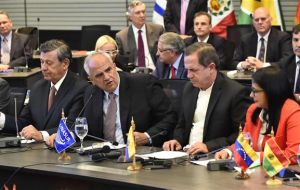 The Union of South American Nations (UNASUR) slammed the United States for its decision to label Venezuela as a security threat and impose sanctions against a number of its officials, calling on Washington to revoke the measure.
Foreign ministers from the 12-nation UNASUR attacked Washington's move during an emergency summit held Saturday in the Ecuadorian capital, Quito, to discuss the recent events involving Venezuela.
"We call upon the United States to evaluate and implement dialogue as an alternative", the ministers said in a joint statement.
They said the signing of an executive order by US President Barack Obama on March 9 labeling Caracas as an extraordinary threat to national security was actually a threat to Venezuela's sovereignty.
UNASUR also said the actions by the United States amounted to "an interventionist threat to the principle of non-interference in the internal affairs of other countries."
The reaction by UNASUR comes against the backdrop of sanctions passed by Washington against seven Venezuelan officials for allegedly violating the rights of opponents and critics of the government.
Washington's decision has drawn criticism from a number of regional leaders, including Ecuadorean President Rafael Correa, Bolivian President Evo Morales, Nicaraguan President Daniel Ortega and Argentine President Cristina Fernandez.
The Venezuelan government recently ordered the American embassy to cut the number of its staff from 100 to 17 by around mid-March as only 17 Venezuelan diplomats are currently serving in the United States.
Maduro has repeatedly accused the United States of meddling in the internal affairs of Venezuela and attempting to topple his government.
The two countries have been at odds since late Hugo Chavez became Venezuela's president in 1999. Washington has admitted to endorsing a coup that briefly removed Chavez from power in 2002.
UNASUR comprises Argentina, Bolivia, Brazil, Venezuela, Guyana, Columbia, Paraguay, Peru, Surinam, Uruguay, Chile and Ecuador. It was established in December 2004.