Angry 23rd anniversary of 1992 bombing of Israeli embassy in Buenos Aires
Wednesday, March 18th 2015 - 01:58 UTC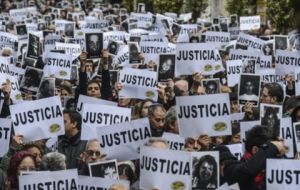 Victims' families and survivors of the 1992 terrorist attack against the Israeli Embassy in Buenos Aires City have reiterated their demands for justice on the 23rd anniversary of the bombing, pointing out that those responsible have still not been identified two decades later.
Those killed and injured were remembered on Tuesday with the laying of a wreath at the memorial in the park located, where the Embassy used to stand.
The act was marked by anger from family members, who railed against the "impunity and pain" caused by the continued lack of information over the authors of the attack.
"After 23 years we believe that the time has come for us to know the truth. Unfortunately the courts have not helped us to investigate properly who were behind the bombing," said Carlos Susevich, father of one of the Embassy victims.
The official ceremony by the Embassy was postponed due to Tuesday's general elections in Israel. It will be held on Thursday. The event will start at 14.45, the exact time when the car bomb exploded in 1992, killing 29 and wounding 242, including diplomats, children, clergy from a nearby church and bystanders.
The attack, which predated the 1994 bombing on the AMIA Jewish Community Centre, has been brought back into the spotlight recently by President Cristina Fernandez, who pointed fingers at the Supreme Court for the lack of results in the investigation of the attack.